Pomegranates remind me of my childhood. My friends, Nancy A and Joy W, and I used to spend hours spitting pomegranate seeds into an old fountain in my backyard. I guess my mom thought that was a good way to keep us busy? As an adult I'm attracted to their color and love to use them when cooking for the holidays.
This is a great recipe to make for Thanksgiving or Christmas, especially if you have some non-meat eaters joining you as it is hearty enough to stand alone. There are a lot of different flavors found in this dish that develop as you dig into it. You start out with more of a tart lemony flavor, but as you get to the squash it gets more sweet due to the honey that was used during baking.
The recipe calls for pomegranate molasses which I had never heard of before. Before buying it I did see if there was some sort of substitute, but everything I read said there is nothing that compares – basically it's boiled down pomegranate seeds that have been sweetened to cut their tartness a bit. I was able to find it at my local Wegmans in the international aisle (it's from Lebanon). If you can't find it or don't want to order it online, I'd add a bit more lemon juice and some honey to the dressing as a substitute (or if you are local, I'll be happy to share some of mine).
You can use a variety of grains – kasha, couscous or bulger. I opted for Kashi 7 Whole Grains and Sesame Pilaf which worked well and added a nice firm texture.
This makes both a tasty and colorful addition to any table – whether it's a holiday meal or not.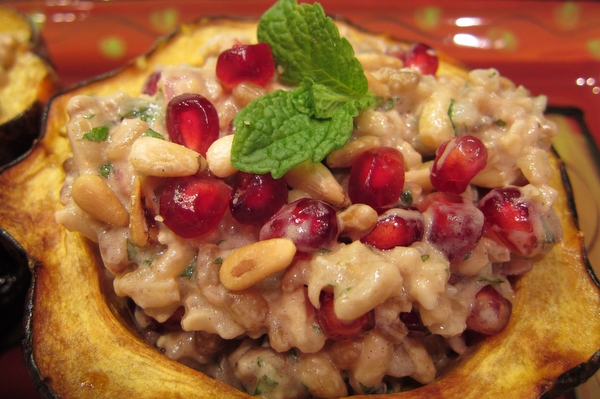 | | | |
| --- | --- | --- |
| Stuffed Acorn Squash | | Print |
Ingredients
Two 1-1/4 pound acorn squash (any color), halved and seeded
1 teaspoon extra-virgin olive oil
1 teaspoon honey
¼ teaspoon kosher salt
¼ cup pine nuts
1 cup kasha, couscous, bulgur or Kashi 7 Whole Grains and Sesame Pilaf
1 teaspoon plus a pinch of salt, divided
1 large shallot, finely chopped
6 tablespoons low-fat or fat-free plain yogurt (Greek is fine)
4 teaspoons pomegranate molasses
2 teaspoons finely grated lemon zest plus ¼ cup fresh lemon juice (from 1-2 lemons)
2 tablespoons extra-virgin olive oil
1-1/2 cups finely chopped fresh mint leaves
½ cup pomegranate seeds
Instructions
Preheat the oven to 375°F. Place squash halves cut side up on an aluminum-foil-lined baking sheet. Drizzle the olive oil and honey over squash halves and sprinkle with salt. Roast until a fork easily slides into the flesh, about 45 minutes. Remove from the oven.
On another rimmed baking sheet, add pine nuts and toast in the oven until golden-brown, about 4-6 minutes. Remove from the oven and transfer to a small plate.
While the squash roasts, make the grain stuffing according to the package directions. It should be tender. When cooked, fluff with a fork. The cooking time will depend on what grain you are using.
Sprinkle shallot with ¼ teaspoon salt, let shallot sit for 5 minutes, then rinse under cold water in a fine-mesh sieve.
In a medium bowl, add rinsed shallot and whisk in yogurt, pomegranate molasses, lemon zest and lemon juice.
Whisk in the olive oil and add the grain to the dressing, stirring to combine. Add most of the mint leaves, pomegranate seeds and pine nuts (reserving some of each for garnish) and a pinch of salt and gently toss together.
Divide the filling between the two squash halves. Sprinkle with remaining mint leaves, pomegranate seeds and pine nuts and serve.
Notes
* Recipe can easily be doubled or halved.
Variation of a recipe from the Tasting Table Test Kitchen