I mentioned to Ed that I was going to make a new recipe – stuffed peppers with quinoa. While he's always up for a new meal he started reminiscing about the stuffed peppers his mother used to make when he was growing up. While he didn't have an exact recipe he knew that they were stuffed with sausage and rice and baked in a tomato sauce. That was all I needed to change my plan.
I started with a mix of red and green peppers – both for color and flavor. Then I added some mild Italian sausage along with garlic, onions, dried herbs and cheese. While I was preparing the meat mixture I made some brown rice and a small batch of Josephine's Marinara Sauce (Red Sauce). I'm sure that my mother-in-law never used brown rice but figured I could get away with it since Ed didn't recall the exact recipe. Jarred tomato sauce will do if you don't have time to make this simple sauce.
The few times I had made stuffed peppers in the past I had poured water around them to steam in the oven. This was the first time I had used tomato sauce in the place of water – definitely an improvement. The sauce does the job of cooking them but not making the whole dish watery.
I had some leftover filing that I put into a freezer-safe baking dish and froze. I plan to bake it and then throw an egg over it as that's what my mother-in-law was known to do with leftovers.
The end result? A filling and flavorful meal.  Plus this is a gluten-free/wheat-free as long as the sausage is made without gluten.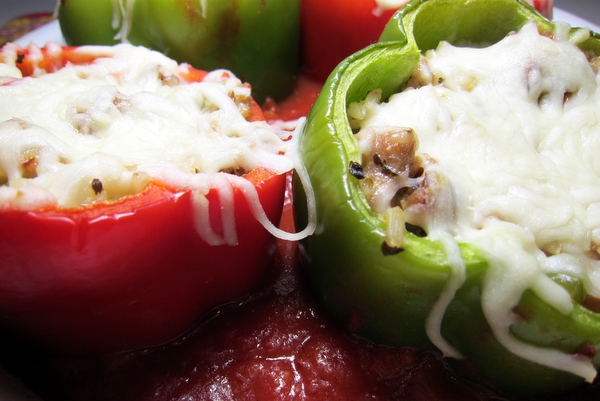 | | | |
| --- | --- | --- |
| Stuffed Peppers with Sausage and Tomato Sauce | | Print |
Ingredients
½ cup brown rice, uncooked
4 peppers (red and/or green)
2 tablespoons extra virgin olive oil
1 small onion, chopped
4 cloves of garlic, minced
2 teaspoons dried oregano
2 teaspoons dried basil
1 teaspoon red pepper flakes
1 pound mild Italian sausage, casing removed
¼ cup Parmigiano Reggiano cheese plus more for serving
2 cups marinara sauce (red sauce)
1 cup mozzarella or Italian cheese blend, shredded
Instructions
Cook the brown rice according to the instructions on the package. Place in a bowl when cooked.
Cut off the tops of the peppers and reserve the crowns minus the stems. Discard the ribs and seeds. If your peppers can't stand up carefully slice a thin sliver off the bottom of the pepper so it's level.
Chop the crowns of the peppers.
In a large frying pan heat the olive oil over medium heat. Sauté the onion, garlic and reserved chopped peppers until soft, about 10 minutes.
Add oregano, basil and red pepper flakes to pan and sauté for another minute.
Add sausage and cook through for about 10 minutes breaking it up with the back of a spoon. When cooked drain any excess fat.
Season with salt and pepper.
Add meat mixture and Parmigiano Reggiano cheese to the rice bowl. Stir well to combine.
Stuff each pepper to the top with meat-rice mixture.
Pour marinara sauce into a baking dish sized to hold the upright peppers snugly. Place peppers in the baking dish. Cover with aluminum foil.
Bake at 350°F for an hour. Remove the aluminum foil and top each pepper with about a ¼ cup of shredded cheese. Return to oven (uncovered) and cook an additional 15 minutes so cheese can melt.
Place each pepper in a pasta bowl and spoon tomato sauce around it. Serve with additional grated Parmigiano Reggiano cheese.
Notes
* You can make a batch of homemade sauce such as
Josephine's Marinara Sauce (Red Sauce)
or use sauce from a jar.
* These peppers look small but one is enough for a main dish. They make good leftovers, too.
* Dish can be made a few hours before heating.