I made these pepitas years ago for a Mexican-themed dinner that our friends, Linda C and Jim C hosted. They were a huge hit and I have been making them ever since. They're great to serve as part of a selection of hors d'oeuvres, in a salad or just for a simple snack. I like to serve them at Bunco as part of the snack selections on the playing tables. Plus, they freeze well so you can always have them on hand.
Pepitas are the hulled portion of a pumpkin seed. Pepitas are green (and smaller) and pumpkin seeds are white (and larger).
The recipe doubles well, which is good as they're a bit addictive.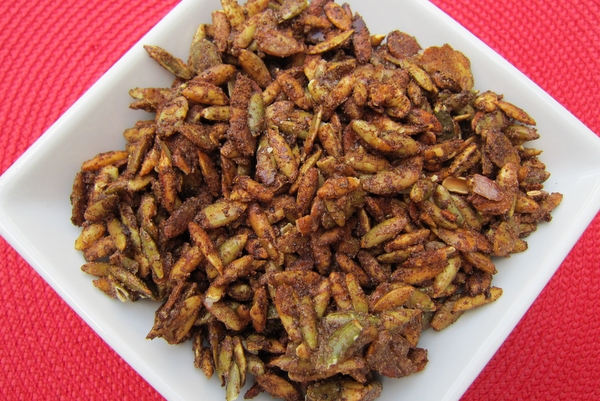 | | | |
| --- | --- | --- |
| Sugar and Spice Pepitas | | Print |
Ingredients
Nonstick vegetable oil spray
⅓ cup sugar
1 tablespoon chili powder
1 teaspoon ground cinnamon
½ teaspoon salt
¼ teaspoon ground cumin
¼ - ½ teaspoon cayenne pepper (depending on taste)
2 cups shelled raw pepitas
1 large egg white, beaten until frothy
Instructions
Preheat oven to 350°F.
Spray baking sheet with nonstick spray.
Mix sugar and spices in medium bowl. Stir in pepitas.
Stir in egg white and coat well.
Spread mixture in single layer on baking sheet.
Bake until pepitas are golden and dry, stirring occasionally, about 15 minutes.
Remove from oven and cool.
Separate pepitas with your fingers if there are any large clumps.
Notes
Pepitas freeze well in a ziplock bag for a few months.