Sun dried tomatoes were really popular in the 90's and I fell for them hard (and still love them today). I remember someone giving me a bunch of freshly picked plum tomatoes – more than I knew what to do with – and I thought I would make my own sun dried tomatoes.  I did some research and soon realized it wasn't worth my time! So I have happily settled for the packaged version. Did you know that a three ounce bag contains almost four pounds of fresh tomatoes?
This recipe from a friend, Eric S, dates back to the 90's and has been a go to recipe in my kitchen ever since. It's easy to have these ingredients on hand for whenever you need a simple, but tasty appetizer. The sun dried tomatoes partner so well with the capers. You can serve this along with baguette or bruschetta slices. It also goes nicely with some Sharp Provolone or creamy Brie.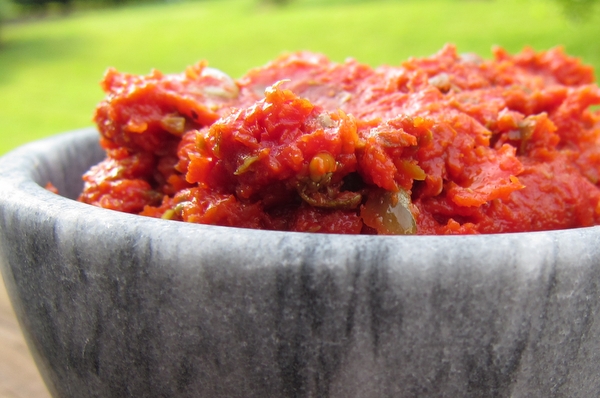 | | | |
| --- | --- | --- |
| Sun Dried Tomato & Caper Tapenade | | Print |
Serves:
Makes about 2 cups
Ingredients
6 ounces (about 2 cups) chopped sun dried tomatoes (not packed in oil)
2 cloves of garlic
3 ounces of capers, drained
2-3 tablespoons extra-virgin olive oil
tomato paste (if needed)
Serve with: baguette or bruschetta slices
Instructions
Chop sun dried tomatoes and soak in boiling water for 15 minutes, or until soft. Drain water, but reserve a portion of the water.
Using a food processor, purée the sundried tomatoes and garlic.
While the motor is running, add the olive oil and some of the reserved liquid until you have reached a smooth consistency.
Add some tomato paste if needed to reach the perfect consistency (should be a bit chunky).
Add the capers, salt and pepper and mix well.
Store in refrigerator a few hours so the flavors can blend together, and bring to room temperature before serving.
Notes
This recipe keeps for about a week.