When I went to prepare this recipe I realized just how long I had been making it – over 21 years. It was one of my first "go to" recipes when I decided that I was going to learn to cook.  Ed and I hadn't been dating long when Aunt Susie and Uncle Christopher M had us for dinner. Our contribution was homemade blueberry muffins which I assumed Susie would serve for breakfast the following day. But, my young cousins, Matthew and James, devoured them for dinner instead. Susie served this salad to the adults and I have been making it ever since.
The wild rice provides both a nutty flavor and good texture. Don't skip the pine nuts (unless there's a nut allergy) or the capers as they really make the salad. While I have never substituted brown rice for the white rice in this salad I see no reason why this can't be done.
It seemed fitting to post this recipe at this time – my cousin, Matthew, was 6 at that dinner – he's now 27 (and, much, much taller) and getting married to the love of his life, Caitlin, this weekend.  I wish them many fabulous food memories together.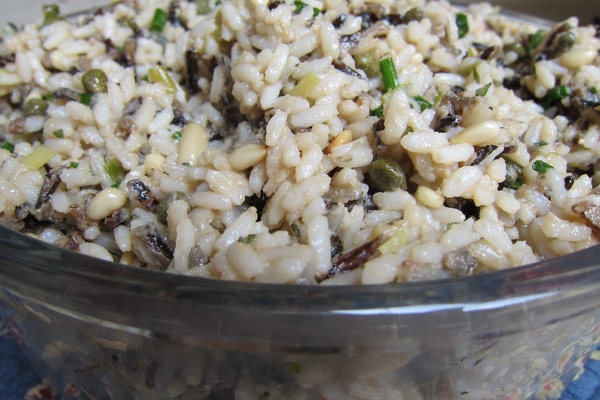 | | | |
| --- | --- | --- |
| Susie's Wild Rice Salad | | Print |
Ingredients
1-1/2 cups long-grain rice (such as Uncle Ben's)
½ cup wild rice
2 bay leaves
3-4 scallions, chopped
2 tablespoons fresh oregano or 2 teaspoons dried oregano
½ cup pine nuts, toasted
⅓ cup capers, drained
3 tablespoons fresh chives, chopped
2 tablespoons fresh lemon juice
2 tablespoons balsamic vinegar
1 tablespoon Dijon mustard
4 dashes Tabasco
½ cup olive oil
Instructions
Cook both rices according to the package directions (the wild rice will take longer) and add a bay leaf to each pot.
Remove the bay leaves when the rice is cooked.
Whisk all of the dressing ingredients together (except olive oil) and then whisk in the olive oil.
Transfer the rice to a large bowl, add the dressing, scallions and oregano. Toss well.
Cover and refrigerate until cool – about 2 hours. When ready to serve add the pine nuts, capers and chives to the rice and season with salt and pepper.
Notes
Salad can be made 24 hours in advance.
Source:  Susie McCawley's book of recipes