"What more would one want?" exclaimed a happy eater of this amazing bacon. Just four ingredients and you have something that will wow a crowd.
This recipe came to me by way of my friend, Cathy R. She has been making it for the last few years and refining the recipe. She once made it for a house concert and used too much cayenne pepper but that didn't matter as those who like things really spicy still gobbled it up. Most recently she made eight pounds for our Bunco group. Fortunately the group of 12 women didn't consume all of it but we came pretty close. I wish I had a picture of the happy women standing around a pile of bacon.
The key is a thick cut of bacon – you want it to have some girth so that it holds up. Think the opposite of bacon you'd crumble on top of your Cobb salad. If you have access to a farmers or meat market that will cut bacon for you, this recipe is worth the effort to get really good bacon. I've provided spice quantities for just the right amount of spice for someone like me who likes flavor but not too much spice. That being said, if you know you like spice, I'd recommend increasing both the cayenne pepper and black pepper.  
Since you can make this ahead of time, it's a good appetizer for a holiday meal. I recommend at least doubling the recipe as it will go fast. And, assuming no cross-contamination of your bacon, it's gluten-free/wheat-free.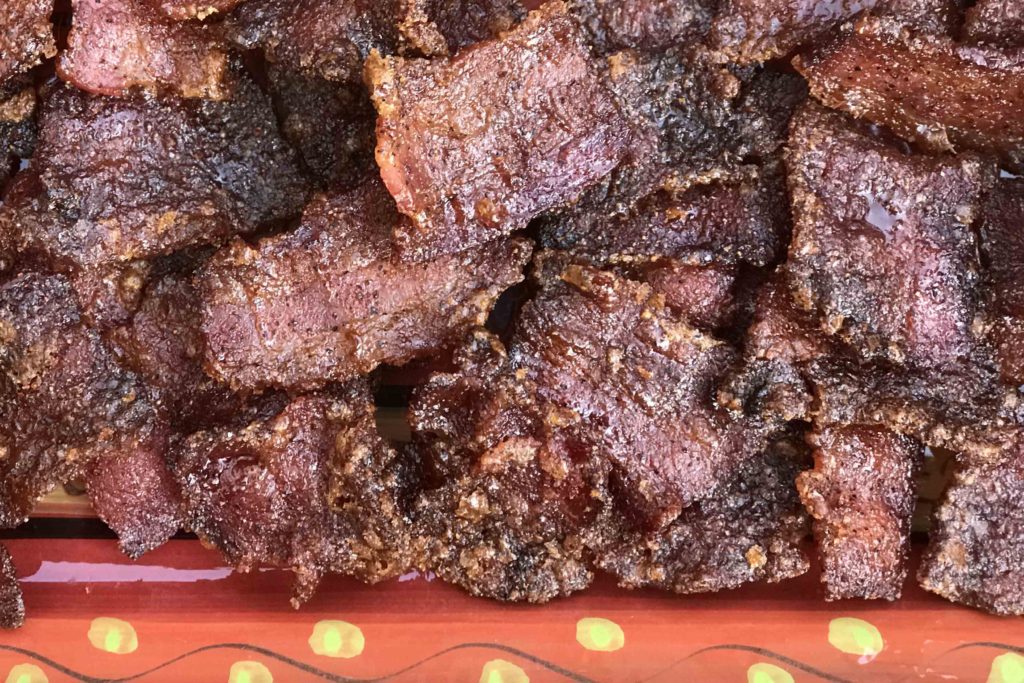 | | | |
| --- | --- | --- |
| Sweet and Spicy Bacon | | Print |
Ingredients
1 pound bacon, thick cut
8 tablespoons brown sugar
1 teaspoon cayenne pepper
1-1/2 teaspoons freshly ground black pepper
Instructions
Preheat oven to 350°F.
Cover two large cookie sheets with aluminum foil and place an oven-safe wire rack on top of each cookie sheet.
Cut bacon into thirds and separate.
Mix brown sugar, cayenne pepper and black pepper in a large bowl. Add back to bowl and coat each piece in the sugar mixture. Transfer bacon to the wire rack.
Back for 30 to 35 minutes until crispy – watch carefully so bacon doesn't burn.
Transfer to paper towels to cool. Serve at room temperature. Can be stored in refrigerator for up to three days and brought to room temperature before serving.
Notes
Recipe can be doubled or tripled – you'll likely need to do it in batches. You should be able to do a little over a pound per batch (assuming you can fit two large cookie sheets in your oven at a time).