I have a few chili recipes that I like but I was not in the mood for any of them. I asked Ed if he could find a new recipe that he thought looked good. Instead of poring through our collection of cookbooks or looking for recipes on the internet, he decided to seek out a proven recipe from a dear friend.
Armed with what we knew was a tasty chili I set out with this recipe and made a few modifications along the way (I had to add some garlic). The result is a somewhat sweet, but flavorful chili. The kind that keeps you coming back for more. It's also easy to make and the majority of time is spent simmering the chili to increase its flavor.
Looking for something new to serve at the Super Bowl this Sunday (or whatever day it ends up being)? Try this recipe out. All it needs is a sprinkle of cheese and some tortilla chips or Fritos (a bit of a guilty pleasure).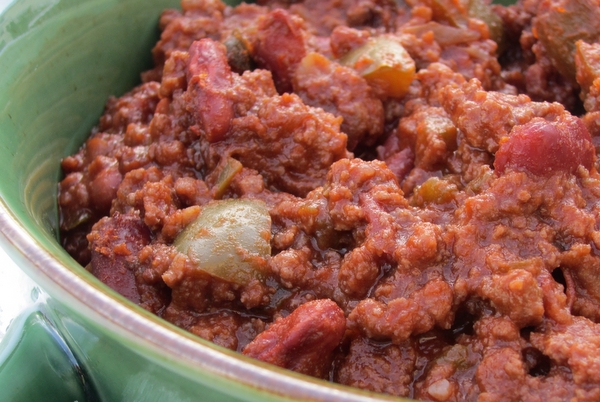 Serves:
Makes about 10 cups and serves 6-7.
Ingredients
1 tablespoon olive oil
2 green peppers, chopped
1 jalapeño pepper, seeds removed and finely chopped
1 poblano pepper, seeds removed and finely chopped
1 large onion, chopped
3 cloves garlic, minced
2-1/2 pounds lean ground beef
2 tablespoons chili powder
2 15 ounce cans light red kidney beans, rinsed and drained
1 6 ounce can tomato paste
1 12 ounce jar chili sauce
2 cups red wine
3 tablespoons sugar
Grated cheese
Tortilla chips or Fritos
Instructions
In a large Dutch oven (7 quart), warm olive oil over medium-high heat.
Add onion, garlic, green peppers, jalapeño pepper and poblano pepper and cook until tender, about 10 minutes.
Add beef, breaking it up with the back of a wooden spoon and mixing it in with the onions and peppers. Brown for about 10 minutes. Drain excess fat (there will not be much if you're using lean meat).
Add chili powder and stir for 1 minute.
Add beans, tomato paste and chili sauce and stir well. Use a bit of red wine to get the last of the chili sauce out of the jar.
Add the remaining red wine and sugar and stir.
Turn heat down to low and simmer, uncovered, for 2 hours, stirring occasionally.
Top individual portions with grated cheese.