. to thIf I had a hunting lodge I would have this soup on hand all winter long. The flavors are woodsy and rustic – that's what makes me think of a hunting lodge.  The stars are sweet potatoes, chestnuts and brandy. When they meld together they create a complex taste that resembles mushrooms but nary a mushroom is on the ingredient list.
You add a bit of crème fraîche at the end which gives it just a hit of "good" sour. If you wanted to make this recipe dairy free the soup will be just as good without the crème fraîche.
This is an ideal soup for lunch on a cold winter day but would also be a great addition to a dinner party menu, too. Did you know that chestnuts are lower in fat and calories than most nuts?
In case you were wondering I've never even been to a hunting lodge so please grant me some artistic license with my rather idealized view. Think Gaston in Beauty and the Beast?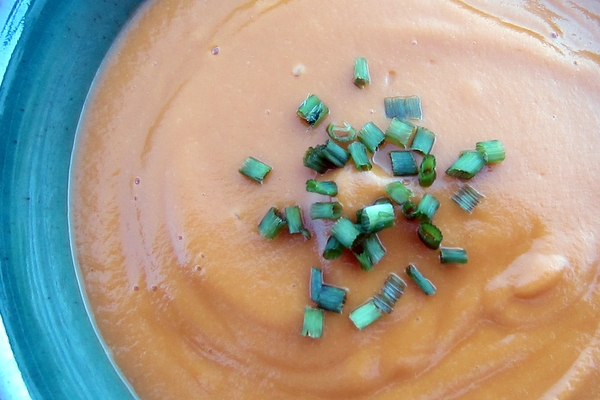 | | | |
| --- | --- | --- |
| Sweet Potato and Chestnut Soup | | Print |
Serves:
6 serviings (~ 9 cups)
Ingredients
2 pounds sweet potatoes
8 ounces fresh chestnuts, roasted
2 tablespoons extra virgin olive oil
2 small onions,thinly sliced
½ cup brandy
4 cup chicken broth
1 bay leaf
¼ cup crème fraîche
1 teaspoon salt
Instructions
Preheat oven to 425°F.
Using a fork prick the sweet potatoes in several places. Place on a cookie sheet covered in aluminum foil and roast until soft, about and hour and 15 minutes depending upon their size. Start checking them at an hour. Once cool, peel and cut into large chunks.
If you are not using already prepared chestnuts, while sweet potatoes are roasting, peel the chestnuts. Score the chestnuts on the elongated side, three quarters of the way around with a paring knife. Place on on a cookie sheet covered in aluminum foil and roast (in the same oven) for 10 minutes until chestnuts start to open along the cut side. Remove from the oven and while still warm, peel off the outside shell and the skin that covers the chestnuts. Coarsely chop chestnuts.
In Dutch oven or soup pot (at least 4 quarts) over medium-high heat, sauté onions in the extra virgin olive oil until soft and beginning to caramelize, about 20 minutes. Add a ¼ cup of water part way through if needed to help cook them down.
Add sweet potato chunks, chestnuts and brandy. Simmer for 2 minutes.
Add chicken stock, bay leaf and salt. Bring to a boil on high heat. Turn down heat to low to simmer for 15 minutes until sweet potatoes are starting to dissolve.
Remove from heat and discard bay leaf.
Using a Vitamix, immersion hand blender, regular blender or food processor, purée the soup in batches until smooth. Return the soup to the pot and whisk in the crème fraîche.
Garnish with the chopped chives.
Notes
* I used chestnuts that were already shelled and roasted – there were a few different varieties in my grocery store.
* Soup freezes well. Let cool and place in freezer-safe containers.
Source:  Variation of a recipe from Cakebread Cellars (website)