Special occasions call for special libations. This is the time of year when you're likely to see drinks made with cranberry or pomegranate juice. After all red is a festive color plus both fruits are in season (although many use bottled juice).
Lest we not forget that this is also the time of year when citrus is at its best. Did you know that thanks to the completion of the transcontinental railroad in the 1880s we have the tradition of putting an orange in our Christmas stockings? The railroad made it possible for the fresh citrus fruit to get places beyond California and Florida. It was still a luxury so it was a treat to find an orange at the bottom of your stocking on Christmas morning. This was a tradition in my house growing up that continues today.
This year's holiday cocktail is inspired by the fresh fruit of the season. Here I've mixed freshly squeezed tangerine juice with chopped ginger. The key to this syrup is letting the ginger steep for at least a few hours (preferably overnight) so that the flavors blend. The slightly spicy ginger flavor offsets the sweetness of the tangerine juice nicely. So it's not too sweet.
I served this cocktail to a few groups of friends and was pleased to hear one woman say this was her new favorite drink.
While I've mixed it with bubbly (any sparkling wine will do), this would also be a good mixed with vodka, tequila, rum or any liquor of your choosing. It's nice to have options and particularly this time of year.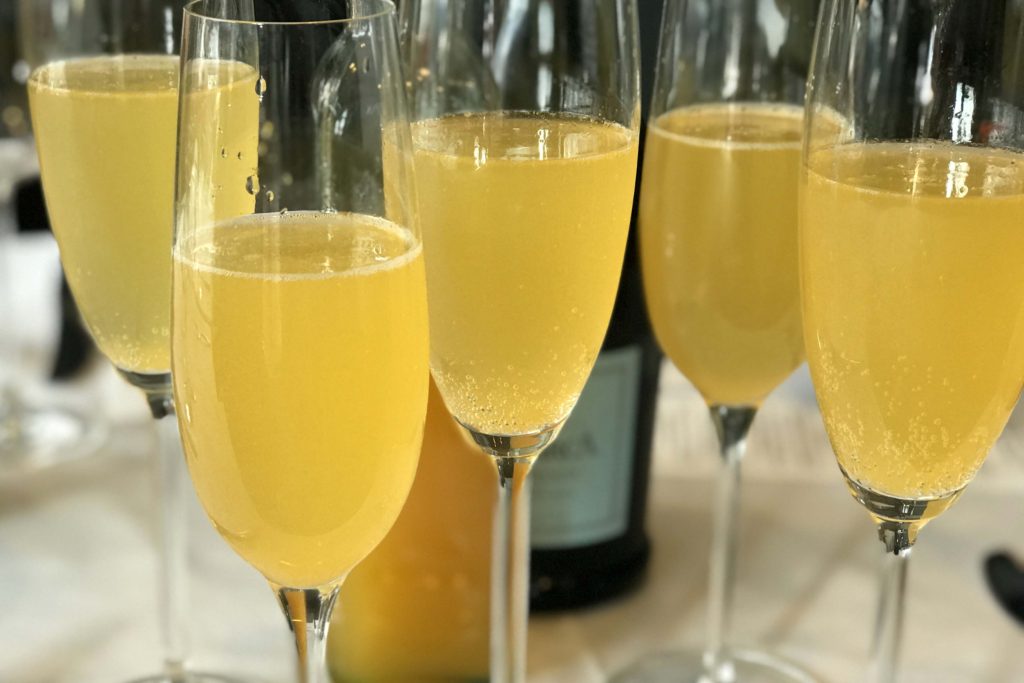 | | | |
| --- | --- | --- |
| Tangerine-Ginger Sparklers | | Print |
Ingredients
16 ounces freshly squeezed tangerine juice (~ 8 tangerines)
½ cup sugar
4 teaspoons freshly grated or chopped ginger
Prosecco or sparkling wine (see Note)
Instructions
Add tangerine juice, sugar and ginger to a medium saucepan. Bring to a boil over medium heat, stirring to dissolve the sugar. Let boil for about two minutes.
Remove pan from heat and let cool. Refrigerate for a few hours or preferably overnight so the flavors may blend.
Before serving strain the syrup to remove the ginger and pour into a serving container.
Add 2 to 3 teaspoons of syrup to a Champagne flute and top with prosecco or sparkling wine.
Syrup keeps for a few weeks in the refrigerator.
Notes
* This makes enough syrup for about 32 drinks – which translates to 4 bottles of sparkling wine.
* Look for freshly squeezed tangerine juice at your grocery store to make this drink even simpler to make.
* Syrup will keep frozen for a few months.