I have never cooked a large ham. I like ham, but I don't love it, and I don't typically cook for crowds large enough to warrant making a ham (unless I wanted to have leftovers for weeks). So, when Ed came across this recipe earlier this year, we were intrigued by it as it was a change of pace in the "meat department" and it allowed us to make a much smaller quantity of ham. Plus, how can you go wrong when tequila is involved (rhetorical question – no need to answer out loud!)?
One of Ed's favorite apps is Weber's On the Grill (he has both the iPad and iPhone versions). When I ask him if he has any ideas for dinner, this is the first place he goes to and it's where he found this recipe. He was a very, very good griller before he found this app and now he's a master griller – it not only has a collection of very strong recipes, but it tells you how to cook everything on a gas grill (and includes a timer). It has helped to turn Ed into even a better griller.
The citrus, tequila and jalapeño really work well together and make for a tasty, easy to grill ham option. And, it pairs well with Smoked Gouda Grits for a great weeknight meal.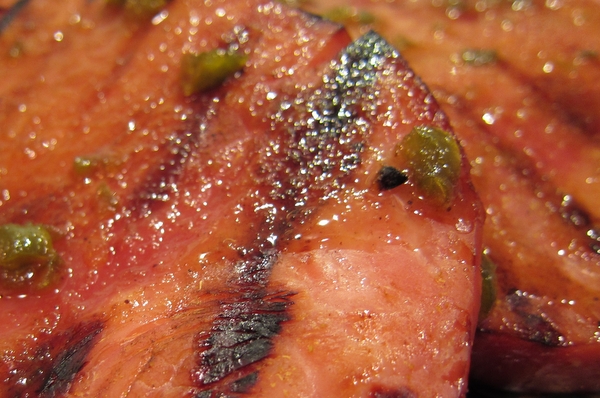 Ingredients
½ cup tequila
2 tablespoons fresh lime juice
1 cup fresh orange juice
3 tablespoons light brown sugar, divided
2 teaspoons ground cumin
1 jalapeño chile pepper, seeds removed and chopped
4 boneless ham steaks, about ½ pound each
Instructions
In a small bowl combine the tequila, lime juice, orange juice, 2 tablespoons of the brown sugar, cumin, and jalapeño. Stir until the sugar is dissolved.
Place the ham steaks in a large, resealable plastic bag and pour in the marinade. Press the air out of the bag and seal tightly. Turn the bag to distribute the marinade and place in a baking dish, making sure the jalapeños are evenly distributed over the steaks. Refrigerate for 4 to 6 hours (or overnight). Allow the steaks to stand at room temperature for 20 to 30 minutes before grilling.
Prepare the grill for direct cooking over medium heat (350° to 450°F).
Remove the ham steaks from the marinade and reserve the marinade. Pour the marinade into a small saucepan. Bring to a boil and boil for 1 full minute. Set aside ½ cup of the liquid for basting the ham steaks. To the remaining liquid, add the remaining 1 tablespoon brown sugar. Reduce the heat to medium and cook the liquid until it has reduced to about ⅓ cup, about 5 minutes.
Nick the edges of the ham steaks, making small cuts through the fat every 2 to 3 inches around the perimeter. Grill the ham over direct medium heat, with the lid closed as much as possible, until it is nicely marked and crispy on the edges, about 12 minutes, turning once. Brush with some of the reserved marinade after turning.
Source:  Adapted from From Weber's Real Grilling by Jamie Purviance (available through Weber's On the Grill app)