Here's the last in my winter soup series. This is a variation on the first recipe I made from the cookbook that came with my Vitamix. The original recipe called for both coconut milk and coconut cream (this is different than cream of coconut which is used in cocktails).
 I just doubled the amount of coconut milk which turned out well, plus you don't have two partially used cans.
This soup is very creamy even though it doesn't have any dairy. The addition of the coconut milk gives it that "Thai" flavor. It's very easy to make – from start to finish it's about 30 to 40 minutes. And, you don't need a Vitamix, as an immersion hand blender, regular blender or food processor will do the trick, too (you may have to do it in a few batches).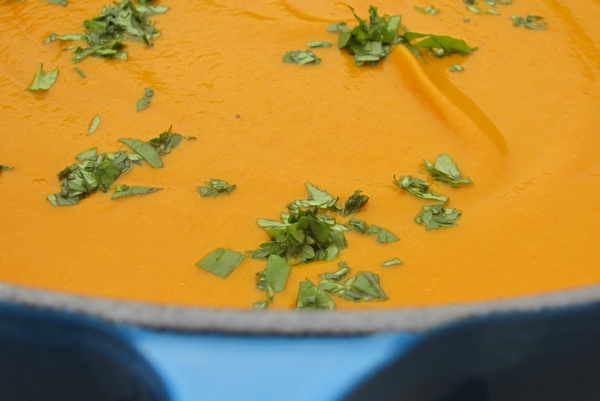 Ingredients
1 tablespoon olive oil
1 medium onion, chopped
2 tablespoons chopped fresh ginger
1 garlic clove, chopped
1 medium jalapeño pepper, seeds removed and coarsely chopped
2-1/2 cups (about 20 ounces) canned pumpkin
1-2/3 cups (about 14 ounces) coconut milk
3 cups chicken or vegetable broth
1 tablespoon tomato paste
1 tablespoon lemon juice
Cilantro (for garnish)
Instructions
Heat oil in a 4 to 5 quart pan over medium heat.
Add onion and cook for about 5 minutes or until onion is soft.
Add ginger, garlic and jalapeño pepper and cook for 1 minute.
Add pumpkin, coconut milk, broth, tomato paste and lemon juice. Stir to mix.
Heat for 5 minutes or until heated through.
Using a Vitamix, immersion hand blender, regular blender or food processor, puree the soup until smooth. Season with salt and pepper.
Serve immediately or return the soup to pot to be heated later.
Garnish each serving with freshly chopped cilantro.
Notes
* Soup freezes well. Let cool and place in freezer-safe containers.
Variation of recipe from Create: Inspiring Recipes for Every Day of the Week for the Vitamix Professional Series 750