Last summer Ed and I had a wonderful visit to The Sagamore on Lake George, NY. We arrived just in time for an early lunch where we shared a fresh agave margarita. We liked it so much that post-golf we had another one and then set out to recreate it when we got home. We think we came close with this wonderfully fresh and simple drink. But, to be sure we headed back to The Sagamore last fall to have one more.  As you can see we take recreating a favorite drink very seriously.
It's worth the effort to squeeze limes and oranges for this beverage and at 200 calories per serving it is far less than a margaritas from a bottled mix (and so much better tasting). Perfect for a Cinco de Mayo party or summer party.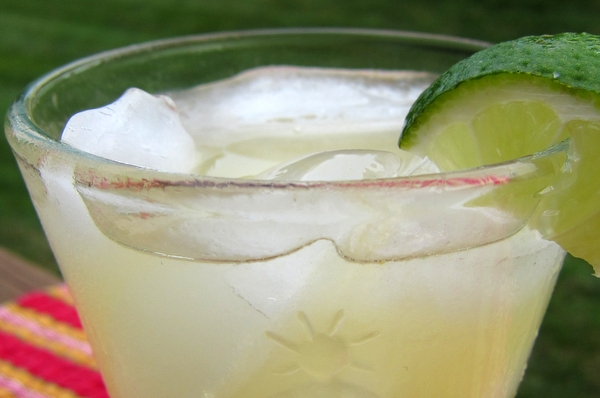 | | | |
| --- | --- | --- |
| The Riegl Margarita II | | Print |
Ingredients
4 ounces fresh lime juice (~ 3 limes)
3 ounces fresh orange juice (~ 2 oranges)
1 tablespoon agave nectar
4 ounces Silver Patron Tequila (or other premium Tequila)
Instructions
Freshly squeeze both lime and orange juices.
In a cocktail shaker, stir lime and orange juices with agave nectar until agave nectar dissolves.
Fill shaker half way with ice.
Add tequila and shake.
Strain into pint glasses filled three quarters of the way with ice.
Serve with a slice of lime and salt, if desired.
Notes
About 200 calories per serving.