Years ago Ed and I planned a trip to Scottsdale to golf.  Sadly, Ed injured himself prior to his trip and was told by the doctor not to play golf. Never fear, we managed to find plenty to do to occupy our time. One task that Ed devoted much time to was finding the perfect margarita. He was very thorough in his research – he insisted on trying one at every bar in the resort (there were six bars – thankfully we were there seven days). And, I was very supportive, as I knew that I would benefit from his exhaustive research!
This recipe pre-dates the more "modern" margarita which is typically made with fresh lime juice and much easier to find at good bars these days. In our house we always have ingredients for this recipe on hand, so it's easy to make. Please don't skimp on the Tequila – we believe that one shouldn't bother with a margarita (or any other Tequila-based drink) unless it is made with 100% agave Tequila (such as Patron or Don Julio).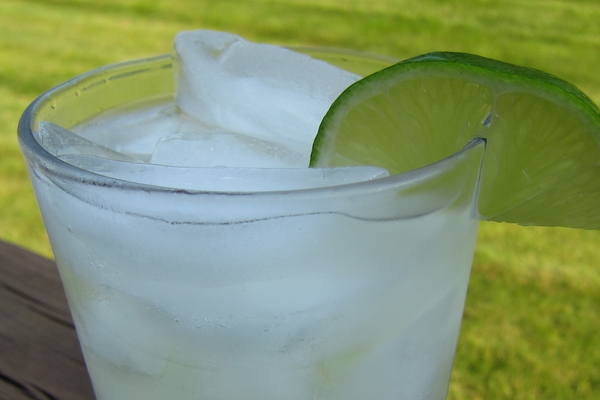 | | | |
| --- | --- | --- |
| The Riegl Margarita | | Print |
Ingredients
4 ounces Silver Patron Tequila (or other premium Tequila)
1 ounce Grand Marnier or Orange Patron Liqueur
½ ounce Rose's Lime Juice (or other sweetened lime juice)
1 ounce 7-Up, Fresca, Italian Lemon Soda or Sweet & Sour Mix (see Notes)
3-4 ounces seltzer
Instructions
Fill shaker half way with ice.
Add all ingredients and shake.
Strain into pint glasses filled three quarters of the way with ice.
Serve with a slice of lime and salt, if desired.
Notes
SWEET AND SOUR MIX
3 ounces fresh lime juice
3 ounces fresh lemon juice
2 ounces simple syrup (see below)
Pour all of the ingredients into a clean, resealable 12 ounce bottle. Shake well, seal and refrigerate. Makes 1 cup and keeps for about 10 days or longer in the refrigerator.
SIMPLE SYRUP
1 cup (8 ounces) water
1 cup granulated sugar
Bring the water to a simmer in a saucepan set over medium-high heat. Add the sugar and stir until it completely dissolves. Remove the pan from the heat. Set aside to cool to room temperature. Pour the syrup into a clean 1-pint bottle, cap it and refrigerate it until needed. Makes 1½ cups and keeps two months or longer in the refrigerator.