Tiramisu was a favorite dessert of ours in the 1990s. I'm not sure if it's because it was prevalent on dessert menus or if it's because Lorenzo M, our Italian (Venetian) exchange student, was living with us so we naturally gravitated to all things Italian. There are many that claim that this delicious dessert originated in Venice just like Lorenzo.
It's unclear if Tiramisu dates to late 1600s or 1960s (yes, I know that's a big span of time) but the word used to describe this dessert didn't come into use until the late 20th century. While I adore this dessert I also love that the name means "pick me up." To me all desserts are a "pick me up" but this one is extra special. I liked the name so much that I recommended that a former colleague name his cat Tiramisu (she went by Tira).
I accepted the dessert challenge for an Italian Farmhouse-themed Gourmet Dinner Club (GDC) dinner and decided to see if I could make a gluten-free Tiramisu. I dug out my favorite recipe – it had been many years since I'd eaten it and I missed it. I did a bit of research and was happy to read good reviews of Schar's Gluten-Free Ladyfingers and to find them at my local Wegmans. I would say they resemble a more traditional savoiardi biscuit in consistency (crunchy) rather than soft ladyfingers (more sponge cake-like) that you often find in the bakery section of your market. They worked perfectly.
Tiramisu is made up of many good flavors – coffee, chocolate and orange – that all come together to form this luscious dessert. You want the coffee or espresso to be strong but not too strong. I used decaffeinated coffee since I was serving it for dessert and I didn't want to keep anyone up.
It's easy to prepare (confirmed by Deb B who also made it) and there's no baking involved. But you do need to make it ahead of time as you want the ladyfingers to soften up so they're like a moist cake.
The good news is that this recipe is just as good with traditional ladyfingers (those that contain gluten).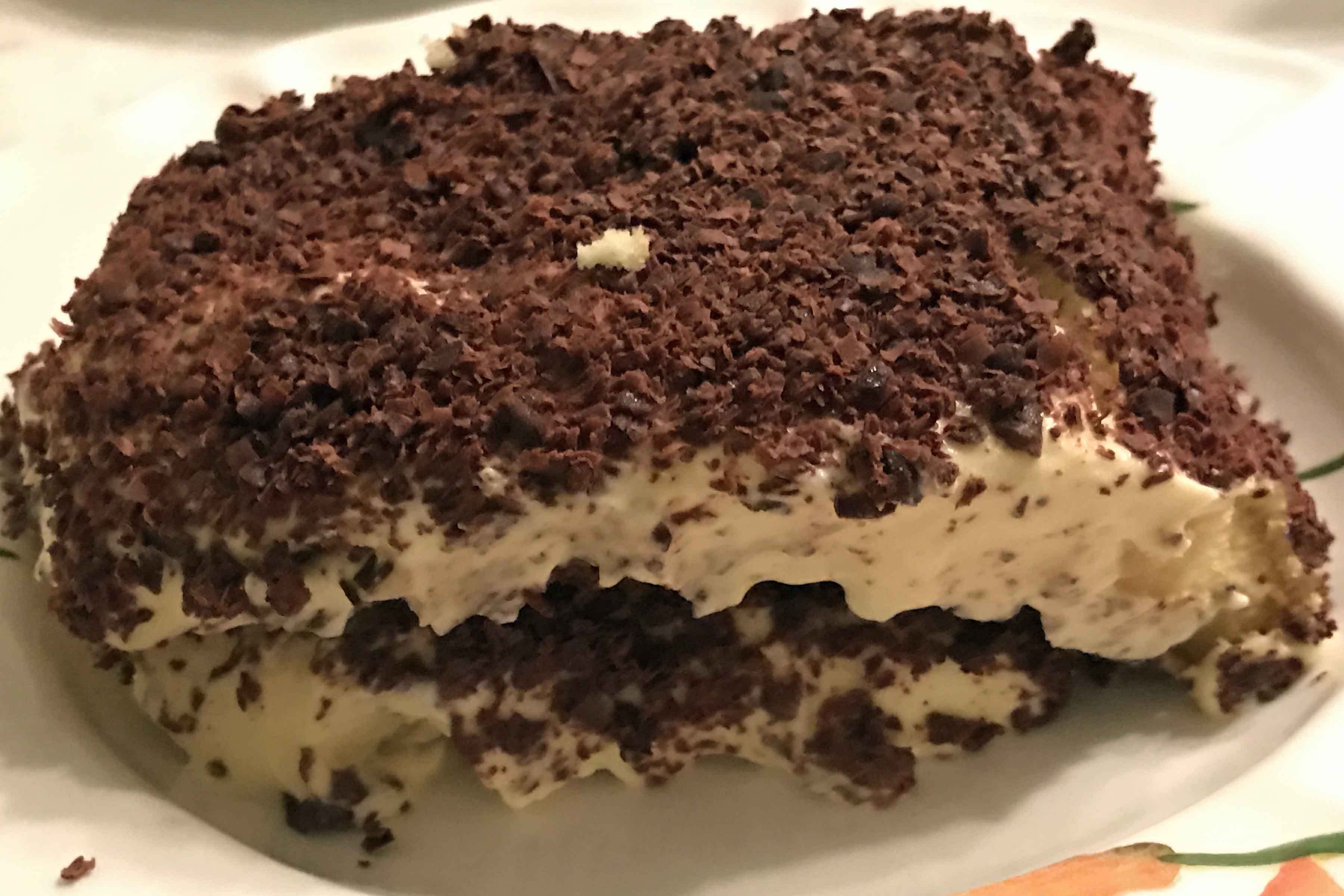 | | | |
| --- | --- | --- |
| Tiramisu (Gluten-Free) | | Print |
Ingredients
6 egg yolks
4 tablespoons confectioners' sugar
4 tablespoons orange liqueur (such as Grand Marnier or Cointreau)
2 tablespoons sweet Marsala
16 ounces mascarpone cheese
8 ounces strong coffee or espresso, cold (decaffeinated is fine)
10 to 11 ounces ladyfingers (regular or gluten-free)
4 ounces dark chocolate grated
Instructions
In a large bowl, beat egg yolks and confectioners' sugar together with an electric mixer until pale and thick. Slowly beat in 2 tablespoons of orange liqueur and Marsala. Add mascarpone and beat until the mixture is thick and smooth.
In a small bowl, combine coffee and remaining 2 tablespoons orange liqueur.
In an 8 to 9-inch baking dish place half of ladyfingers in one layer, cutting to make them fit if needed. Drizzle half of coffee mixture over ladyfingers. Then spoon half of mascarpone mixture, and sprinkle with half grated chocolate. Repeat with an additional layer with remaining ladyfingers, coffee, mascarpone and chocolate.
Cover and chill for at least 4 hours or overnight.
Notes
* I used Schar's Gluten-Free Ladyfingers and decaffeinated coffee.
* Recipe can be cut in half – use a smaller dish or divide among wine glasses (follow the layering directions).
Source:  Adapted from Julee Rosso and Sheila Lukins' New Basics Cookbook (1989)