First class passengers on the R.M.S. Titanic enjoyed an extravagant meal every night of up to ten courses.  Asparagus Salad with Champagne-Saffron Vinaigrette, which will now be forever called "Titanic Asparagus Salad" in my world, was the eighth course served that night.  It was also my assignment for Gourmet Dinner Club's recreation of the last meal on the Titanic.
This is a pretty straightforward version of chilled asparagus with vinaigrette – something that I often make at this time of year as I associate it with Easter.  However, the vinaigrette has a twist – it uses champagne vinegar and saffron.  And, it's a tasty combination.
Champagne vinegar may be difficult to find, but it's worth looking for.  I sent Ed on a "food adventure" to A Taste of Olive in West Chester, PA (locations in Ardmore, PA and Haddonfield, NJ, too) where he tried Pear Champagne Vinegar and Sparkling Wine Vinegar.  He preferred the Pear Champagne Vinegar as it was smoother and the pear softened the vinegar's acidity.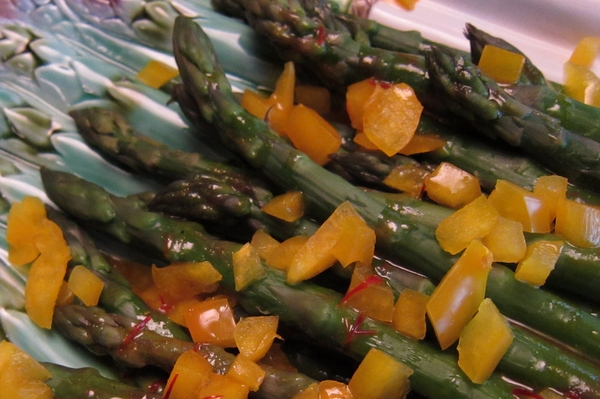 | | | |
| --- | --- | --- |
| Titanic Asparagus Salad | | Print |
Ingredients
1½ pounds asparagus, rinsed
¼ teaspoon saffron threads
1 teaspoon boiling water
1½ tablespoons champagne vinegar or white wine vinegar
½ teaspoon Dijon-style mustard
Pinch of sugar
3 tablespoons extra-virgin olive oil
½ sweet red or yellow pepper, diced
Optional: leaf lettuce
Instructions
Holding the asparagus halfway up the stalk, snap off the woody ends at a natural breaking point and discard.
Steam the asparagus spears 3-5 minutes or until they are tender but not limp. Drain and run spears under cold water until completely cooled. Drain well and set aside.
In a large bowl, stir the saffron into the teaspoon of boiling water. Let it stand for 2 minutes or until it is softened. Stir in the vinegar, mustard and sugar. Whisk in the olive oil. Season the mixture with salt and pepper to taste.
Arrange the asparagus on a platter (atop leaf lettuce, if desired) and top with diced pepper. Drizzle vinaigrette over the asparagus. Serve immediately.
Notes
Asparagus can be cooked a few hours ahead of time and chilled. Dress just before serving.
Source:  Variation on recipe from Eras of Elegance website.