My sister, Sarah S, asked me to bring a soup to her house for Thanksgiving lunch. We had just gotten a Vitamix blender and I was excited to try it out with a recipe that needed to be puréed. It's a hearty tomato soup thanks to the addition of the cannellini beans which thicken it up (without cream) and also give it some protein. If you're looking to sneak more beans into someone's diet, this is the perfect recipe as they are easily hidden. And, it can be made start to finish in an hour.
I knew that this soup was a hit when Sarah asked me to make it again for Christmas Eve lunch at her house.
This is the first installment in my 2014 Soup Series. Look for a few more in the coming weeks.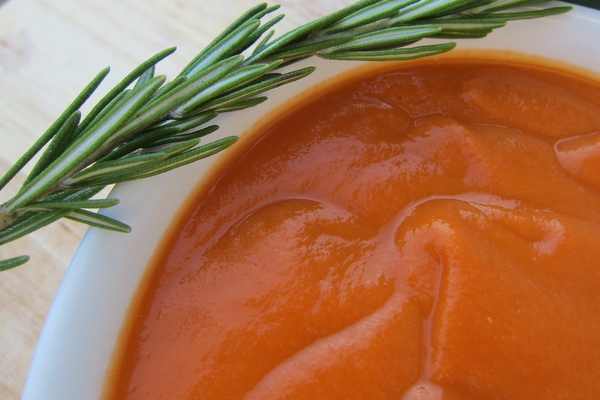 | | | |
| --- | --- | --- |
| Tomato, Cannellini Bean and Rosemary Soup | | Print |
Serves:
6 servings (~ 8 cups)
Ingredients
2 tablespoons olive oil
1 onion, chopped
2 carrots, peeled and chopped (about 1 cup)
2 cloves garlic, chopped
1 15-ounce can cannellini (white) beans, drained and rinsed
1 28-ounce can crushed tomatoes
3 cups chicken broth
1 bay leaf
2 teaspoons minced fresh rosemary
½ teaspoon red pepper flakes
½ teaspoon salt
½ teaspoon freshly ground black pepper
⅔ cup crème fraîche
Zest of one lemon
Instructions
In a large soup pot, warm olive oil over medium-high heat.
Add onion, carrots, and garlic and cook until the vegetables are tender, about 4 minutes.
Add beans, tomatoes, broth, bay leaf, rosemary and red pepper flakes.
Bring the soup to a boil over high heat, then reduce the heat to low and simmer for 30 minutes, covered.
Remove the bay leaf.
Using a Vitamix, immersion hand blender, regular blender or food processor, purée the soup in batches until smooth. Return the soup to a soup pot and keep warm over low heat. Season with salt and pepper.
Serve with a dollop of crème fraîche and sprinkle of lemon zest.
Notes
* Soup freezes well. Let cool and place in freezer-safe containers.
* Recipe doubles easily – use a 7 quart soup pot.
* I used a Vitamix to purée this soup, so it's smoother than it would be if you use an immersion hand blender, regular blender or food processor. Just in case your version doesn't look like the photo!
Source:  Adapted from Giada De Laurentiis' Giada's Kitchen:  New Italian Favorites (2008)