My paternal grandmother had a great sweet tooth – I think she happily could have lived on sweets alone. When we gathered a year ago for her memorial service I took the opportunity to bake in her honor and share my tribute with my family.
This is a take on a traditional Russian Tea Cake (see Talia's Russian Tea Cakes) which was one of my grandmother's favorites but I decided to make it tropical – swapping pecans for macadamia nuts and adding lime zest to commemorate her beloved years of living in southern Florida. I had always thought of these cookies as Christmas cookies but by making these changes I think you can get away with serving them all year long.
I know that my grandmother would have loved these – her descendants certainly did! I'm sure there are some moms out there who would enjoy these for Mother's Day.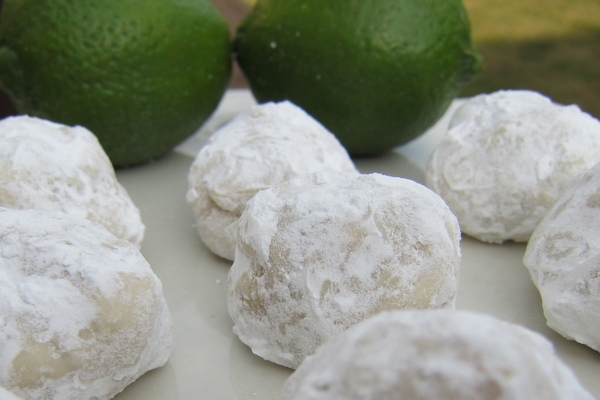 Serves:
Makes 2-1/2 dozen
Ingredients
½ cup powdered sugar
1 cup (2 sticks) unsalted butter, softened
1 teaspoon vanilla extract
2-1/4 cups flour
½ cup chopped macadamia nuts
zest from two limes
About ⅓ cup additional powdered sugar for coating
Instructions
Preheat oven to 400°F.
Cream butter, sugar and vanilla until fluffy and fully mixed.
Slowly add flour to creamed mixture, blend thoroughly
Add nuts and lime zest. Mix well.
Chill dough for 1 hour.
Shape into 1-inch balls and bake 8-10 minutes. Place about an inch apart on the cookie sheet – they don't "melt" much so it's okay if they are close. Do not brown – dough will look uncooked when ready.
Cool and then roll in powdered sugar.
Notes
* Recipe can easily be doubled and fits well into a 4.5 quart KitchenAid stand mixer.
* Cookies freeze well for up to 3 months. Layer between parchment paper or waxed paper in a freezer-safe container.
* If I'm putting these in a bag with other cookies as a gift, I like to put them first in a small bag and then add that small bag to the larger bag which I fill with the remaining cookies. That way the powdered sugar doesn't get all over the other cookies.