As a chocolate lover, I often gravitate to mole sauces as it gives you an excuse to eat chocolate (in this case dark chocolate) for your entrée!  While making mole can be labor-intensive this is an easier version that still captures the unique mole flavor.  This is made in a slow cooker, making it perfect for a Sunday evening meal on a cold winter night.
Don't forget the avocado and goat cheese – these two additions complement the mole sauce nicely.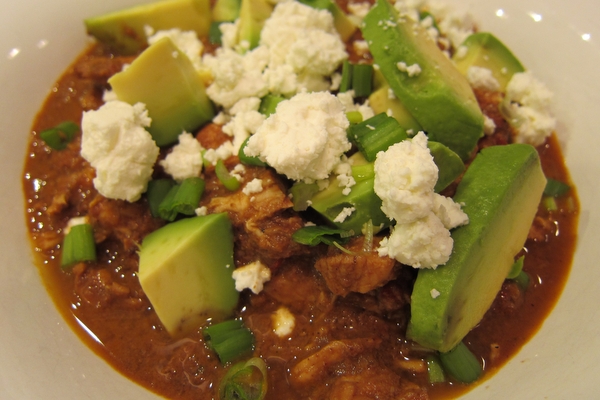 Ingredients
2 ancho chiles
3 tablespoons olive oil
2 yellow onions, finely chopped
4 ounces (1 cup) sliced almonds
2 tablespoons chile powder
1½ teaspoons ground cumin
¾ teaspoons ground cinnamon
15 ounces diced tomatoes, drained
2 ounces bittersweet chocolate, chopped
1½ teaspoons dried oregano
Salt and freshly ground pepper
24 ounces (3 cups) chicken stock
1 whole boneless, skinless turkey breast about 4 pounds, cut into 2-inch chunks
2 avocados, cubed
8-10 ounces goat cheese, crumbled
6 scallions (green onions), including the light green tops, finely chopped
Instructions
Seed the ancho chiles and tear them into flat pieces. In a frying pan over high heat, warm the oil. When the oil is hot, add the chiles and fry just until they being to darken and release a pungent aroma, 15-20 seconds. Using tongs, transfer to a paper towel and set aside.
Reduce the heat to medium-high, add the onions and almonds, and sauté just until golden, 6-8 minutes. Stir in the chili powder, cumin, and cinnamon and sauté until aromatic, about 30 seconds longer. Stir in the tomatoes, chocolate, oregano, 2 teaspoons salt, 1 teaspoon pepper and 12 ounces (1½ cups) of the chicken stock. Continue stirring until the chocolate has melted, about 1 minute. Remove from the heat and let cool for 5 minutes.
Transfer the mixture to a food processor or blender (do not use a hand blender – too messy), add the reserved chiles, and process until smooth; you may need to process in batches. Transfer the purée to a slow cooker and stir in the remaining 12 ounces (1½ cups) of chicken stock. Add the turkey breast chunks and turn to coat evenly. Cover and cook on the low setting for 4 hours, stirring once or twice if possible. The turkey should be very tender.
Using a slotted spoon, transfer the turkey to a wide, shallow bowl. Using 2 forks (or your hands), shred the turkey and then return it to the sauce.
Serve at once in bowls with avocado, goat cheese and scallions on top.
Notes
- Can be made 1 day ahead and reheated on top of the stove or in the oven (covered). - Can be frozen for up to 3 months. - Alternately, chili could be cooked on top of the stove in a Dutch oven on low heat for about 2 hours, stirring occasionally.
Source:  Variation of a recipe from Williams-Sonoma's The New Slow Cooker: Fresh Recipes for the Modern Cook (2010)