I think I'm not alone in this thought:  the holidays are over so now is the time to focus (or re-focus) on eating healthy. I readily accept this challenge and relish finding recipes that are not only good for you but still pack a lot of flavor.
In the case of this soup not only do you get a lot of flavor, but also a bunch of nutrients from kale (high in fiber plus vitamins A, C and K), tomatoes (vitamins A and C plus folic acid), carrots (beta-carotene and vitamin A), lean turkey (protein) and whole grain rice (fiber and protein). Throw in some Herbes de Provence to add some more flavor and you have an easy to make and delicious to eat soup. It only takes an hour or so from start to finish.
Perhaps you made a resolution to eat more kale in 2015? If so, this soup is a great way to get some kale into your diet.
This is the first installment in my 2015 Soup Series. Look for a few more in the coming weeks.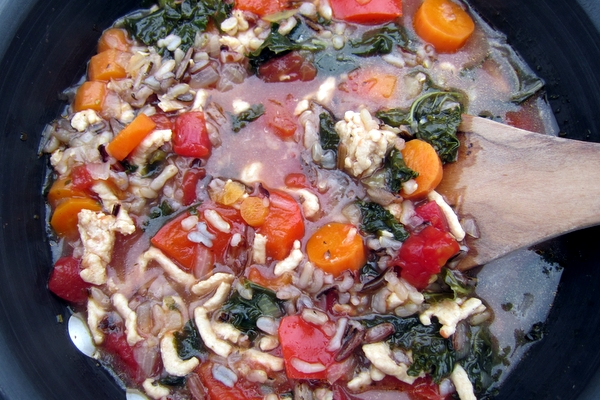 | | | |
| --- | --- | --- |
| Turkey, Rice and Kale Soup | | Print |
Ingredients
2 tablespoons olive oil
5 large shallots, chopped
3 medium carrots, peeled and cut into small pieces
1 large red bell pepper, cut into ½-inch pieces
8 ounces ground white turkey meat
1 tablespoon Herbes de Provence
4 cups low-sodium chicken broth
1 cup dry white wine
1 14.5 ounce can of diced tomatoes (not drained)
2 cups cooked brown rice-wild rice blend (see Notes)
1 small bunch kale, center ribs removed, leaves coarsely chopped (4 packed cups)
¾ teaspoon kosher salt
½ teaspoon freshly ground pepper
¼ cup grated Parmigiano-Reggiano cheese
Instructions
If you haven't already prepared the rice start it while you're prepping the soup (before you start cooking anything).
Heat olive oil in a large Dutch oven (at least 5 quarts).
Add the shallots, carrots and bell pepper and sauté, stirring frequently, until beginning to brown and soften slightly, 8 to 10 minutes.
Add turkey and stir until the meat turns white and begins to color very slightly around the edges, 5 to 7 minutes.
Add the Herbes de Provence and stir for 1 minute.
Add broth, wine, tomatoes and rice and bring to a boil.
Stir in the kale and season with salt and the pepper. Reduce the heat to medium-low, cover and simmer until the vegetables are tender, about 20 to 25 minutes. Season with more salt and pepper, if needed.
Ladle soup into bowls. Sprinkle cheese and serve.
Notes
* I used Lundberg's Wild Rice Blend for the rice. Any brown rice-wild rice blend will work or you can also use all brown rice (just make sure you're using a whole grain rice). About ⅔ cup of dried rice yields 2 cups cooked rice.
* Soup freezes well. Let cool and place in freezer-safe containers.
Source:  Adapted from Giada De Laurentiis' Giada's Feel Good Food (2013)