How happy was I when I received an "A" rating on this flan by our friend, Esther B? Very happy. Esther may live in Pennsylvania now but she hails from Spain so she's tried a flan or two. I brought this along with Red Wine Sangria to a Spanish-themed dinner. While the star of the show was Jonathan R's paella (prepared with advice from Esther) this flan was a perfect addition.
Lots of flan recipes call for condensed milk – I like that this recipe has only basic and simple ingredients used to make the custard and caramel. Milk, heavy cream, sugar, eggs and a vanilla bean come together to form a simple dessert. This flan has a velvety smooth texture and just the right amount of sweetness. Plus it's naturally gluten-free/wheat-free.
I like to unmold this flan into a slightly larger dish that has high enough sides so that the caramel doesn't escape. It also makes it easier for transporting if need be. Don't be alarmed if the little vanilla bean seeds settle on the top of the flan during cooking.
Looking for something special for St. Valentine's Day this year? Give this dessert a try. Even if you're not making a Spanish meal it's still a great ending.
P.S. After I posted this I had a "desperate" email from my Aunt Sally F asking if vanilla extract could be used in place of a vanilla bean.  I thought this was odd as she lives near me and has access to the same wide variety of stores that I do. I then realized that she was vacationing in Aspen, Colorado and couldn't wait to get home to make it. So she made due with her rental kitchen and vanilla extract (1-1/2 teaspoons for 1/2 a vanilla bean). The result was so good that three people ate the whole thing so there were no leftovers to take the next day to visit other family in Colorado!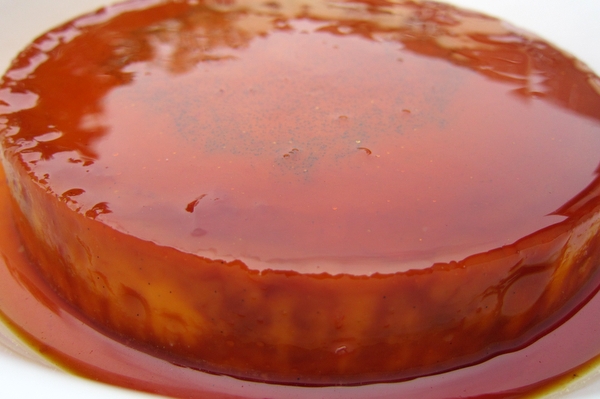 Ingredients
1-3/4 cups heavy cream
1 cup whole milk
Pinch of salt
½ vanilla bean, split lengthwise
1 cup sugar
⅓ cup water
3 large eggs
2 large yolks
7 tablespoons sugar
Instructions
Combine cream, milk and salt in heavy medium saucepan. Scrape seeds from vanilla bean into cream mixture; add bean. Bring to simmer over medium heat. Remove from heat and let steep 30 minutes. Remove bean.
Position rack in center of oven and preheat to 350°F.
Combine 1 cup sugar and ⅓ cup water in another heavy medium saucepan. Stir over low heat until sugar dissolves. Increase heat to high and cook without stirring until syrup turns deep amber, brushing down sides of pan with wet pastry brush and swirling pan occasionally, about 8 to 10 minutes (watch it carefully) Quickly pour caramel into an 8" soufflé dish. Tilt to coat sides. Set dish into 13x9x2-inch (or larger) baking pan.
Whisk eggs, egg yolks and 7 tablespoons sugar in medium bowl just until blended. Gradually and gently whisk cream mixture into egg mixture without creating lots of foam. Pour custard through small sieve into prepared soufflé dish.
Pour enough hot water into baking pan to come halfway up sides of soufflé dish.
Bake until centers of flan is gently set, about 50 to 60 minutes. Transfer flan to rack and cool to room temperature. Move to refrigerator and chill until cold, about 2 hours. Cover with plastic wrap and chill until ready to serve.
To serve, run small sharp knife around flan to loosen. Turn over into a 10" dish with slightly high sides. Shake gently to release flan. Carefully lift off souffle dish allowing caramel syrup to run over flan.
Notes
* Flan can be made up to 2 days ahead.
* Vanilla seeds will settle and are visible through the caramel (this is normal).
* Don't have a vanilla bean? Use 1-1/2 teaspoons pure vanilla extract instead. Add it in place of the vanilla bean.
Source:  Variation on recipe from Bon Appétit, May, 1992