There's no doubt about it – if you live in the northeast it's winter. We've had a longer stretch of bitterly cold days than I can recall in recent years and there appears to be no end in sight. One of the best ways for me to combat the cold is with some warm comfort food. Not only does it warm me up, but it also makes the kitchen smell good.
This is a fairly typical ragù sauce with fatty pork (bacon), ground meat (veal), tomatoes, chopped vegetables and herbs along with some cream. The sauce is more meaty than tomatoey. Adding a bit of cream makes the color more orange than red. It truly is small amount of cream – there's not enough to call this a cream sauce.
What makes this unique is the addition of butternut squash. It adds an additional savory flavor which goes well with the veal and herbs. Make sure to cut the squash into uniform cubes and cook it until tender. You want it to have a more velvety texture that blends well with the other ingredients – it shouldn't be a distraction.
I like both long (fettuccine or pappardelle) and short pasta (rigatoni or penne) with this sauce. The longer pasta is more traditional – whatever you use make sure it's a wider pasta to soak up the sauce. If you're making gluten-free pasta, look for Manini's or Capello's in your freezer section. They are a step above the dried gluten-free pasta.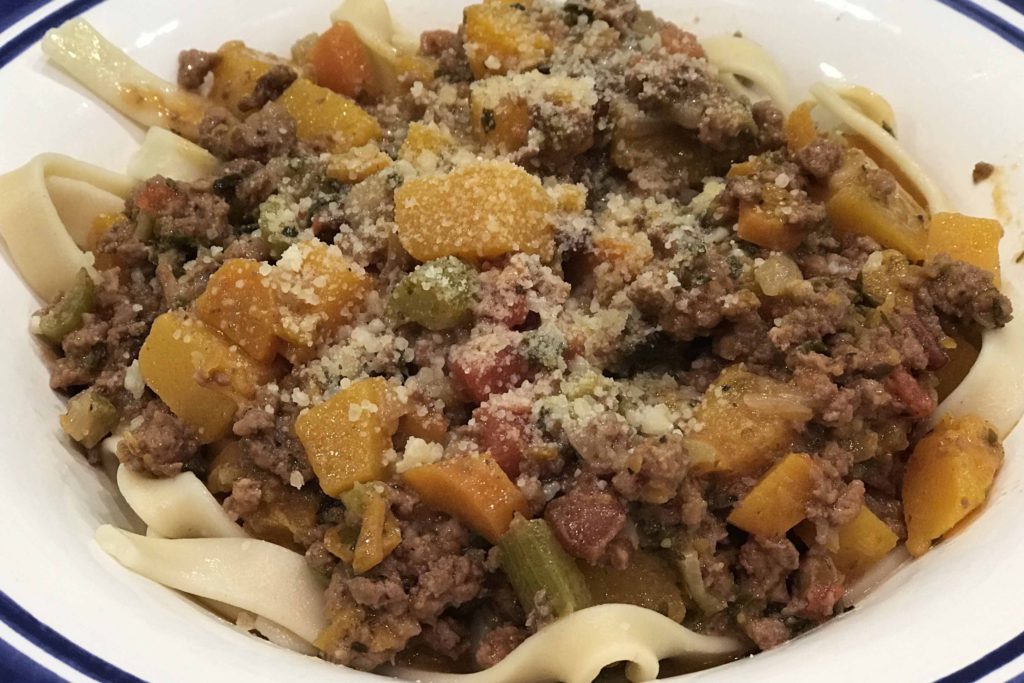 | | | |
| --- | --- | --- |
| Veal and Butternut Squash Ragù | | Print |
Ingredients
4 thick-cut slices of bacon, roughly chopped
2 tablespoons extra-virgin olive oil
½ cup minced carrot
½ cup minced celery
½ cup minced onion
3 large garlic cloves, minced
1 pound ground veal
½ cup fresh sage leaves, chopped
½ cup fresh parsley, chopped
1 bay leaf
2 teaspoons dried oregano
1 teaspoon dried basil
1 cup dry red wine
1 15-ounce can diced tomatoes
2-1/2 cups chicken stock
3 cups diced butternut squash (from ½ medium butternut squash - cut into ½-inch dice)
¼ cup heavy cream
1 pound regular or gluten-free pasta (see Note)
Grated Pecorino-Romano cheese
Instructions
In a large Dutch oven, cook bacon moderate heat, stirring occasionally, until the bacon is crisp, about 5 to 7 minutes. Drain all but 2 tablespoons of bacon fat (or add olive oil if needed).
Add carrot, celery, onion, garlic and a generous pinch of salt and cook over moderate heat, stirring occasionally, until just starting to brown, about 5 minutes.
Add veal, sage, parsley, bay leaf, oregano and basil and cook, breaking up meat with a wooden spoon, until no pink remains, about 8 minutes.
Add wine and cook, stirring, until nearly evaporated, about 3 minutes.
Add tomatoes with their juices and cook, stirring, until the liquid has reduced by half, about 4 minutes.
Add stock and bring to a simmer. Cook over moderately low heat, stirring occasionally, until slightly reduced, about 8 minutes.
Stir in squash and simmer, stirring occasionally, until the squash is tender, about 30 to 40 minutes. Discard bay leaf.
Stir in the heavy cream and season the sauce with salt and pepper; keep warm over very low heat.
Prepare pasta according to package. Place pasta in bowls and top with Bolognese and grated cheese.
The sauce can be refrigerated up to 2 days or frozen for 3 months. Reheat gently before serving.
Notes
* I like both long (fettuccine or pappardelle) and short pasta (rigatoni or penne) with this sauce.
Source:  Variation on a recipe by Andrew Zimmern from Food & Wine