Everyone who loves to cook has at least one cooking fiasco to their name. Mine involves one of the key ingredients in this recipe – fish sauce. Living in Los Angeles I was exposed to many different cuisines that were not all yet available on the east coast in the 1980s and 1990s.
One of my favorites was Thai food so I decided that I'd learn to make Pad Thai after seeing one of the key ingredients (fish sauce) at a local Asian farmers market. We were still newlyweds living in our first apartment and my sister, Sarah S, was coming for dinner while home from college. I got home before Ed and began preparing the ingredients to make Pad Thai. Disaster struck when I went to open the bottle of fish sauce as it exploded (I chose that word intentionally) ALL OVER THE KITCHEN – counters, cabinets, ceiling and me. Clearly it had gone bad and fermented for lack of a better word but since I'd never cooked with it I didn't know what to look for. As I was trying to clean it up and figure out what to make for dinner Ed came through the front door. He already knew something was wrong as he could smell it from the hallway – it was that strong. He quickly took over sending me to the shower, opening windows, putting on fans and meeting my sister outside to let her know of our change of plans – we were going out to dinner.
It took me a decade or so to get over this experience as I carefully avoided recipes with fish sauce. By that time it was readily available in my local grocery stores. Now I always look to see that the liquid is clear and I strictly adhere to the expiration date on the bottle.
The marinade sauce for this recipe is called nuoc cham and is made up of fish sauce, limes, brown sugar, garlic and a jalapeño pepper. It's easy to make and serves as the marinade for the meat, dressing for the cucumber salad and sauce for the finished meal. For the salad I've used cucumbers and scallions here but you could add tomatoes, carrots and/or radishes, too. Add this to a bed of rice or rice noodles and you have one dish meal. The flavors are bright and fresh plus everything is gluten-free/wheat-free.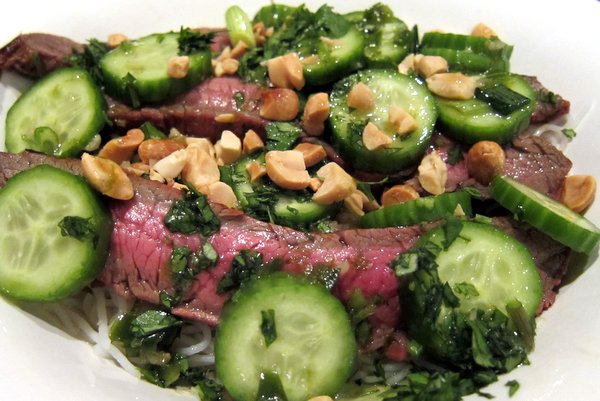 | | | |
| --- | --- | --- |
| Vietnamese Steak with Cucumber Salad | | Print |
Ingredients
½ cup fish sauce
1 tablespoon packed lime zest (from about 3 limes)
⅓ cup fresh lime juice (from about 3 limes)
2 tablespoons brown sugar
2 garlic cloves, grated or minced
1 large jalapeño, seeds and veins removed, minced
1 flank steak, about 1-1/2 pounds
1 medium seedless English cucumber, thinly sliced
4 scallions, thinly sliced
¼ cup roasted peanuts, chopped, for garnish
⅓ cup fresh mint leaves or cilantro, chopped, for garnish
Serve with cooked rice noodles or rice
Instructions
In a small bowl, combine fish sauce, lime zest, lime juice, brown sugar, garlic and jalapeño pepper.
Pour ½ of the mixture over the flank steak and let marinate at room temperature for at least 30 minutes (or refrigerate for up to 24 hours). If chilled, let meat come to room temperature before cooking.
Combine cucumber and scallions in a small bowl. Pour in just enough of the marinade sauce to coat. Save remaining marinade sauce for serving.
Preheat the grill to high. Pat steak dry with paper towels.
Cook steak over direct medium heat (350° to 450°F), about 3 minutes per side for rare or longer for more well-done meat. Transfer steak to a cutting board and let rest for 10 minutes covered in foil.
Thinly slice steak and serve over cooked rice noodles or rice if desired. Top with cucumber salad. Garnish with peanuts and fresh herbs. Use remaining marinade as a sauce.
Adapted from:  Melissa Clark's "Vietnamese Marinated Flank Steak" in
The New York Times
(July 9, 2013)