I must admit that I'm addicted to podcasts. It's like having a radio station that only plays things that interest you all the time. While listening to my absolute favorite, The Splendid Table ("the show for people who love to eat" on NPR that is also available as a podcast), I heard about Awesome Etiquette, a podcast from Lizzie Post and Daniel Post Senning of the Emily Post Institute. Lizzie and Daniel are not just cousins, they're also the great-great grandchildren of Emily Post, the mother of all things etiquette. This sounded interesting especially since the teaser story was about the etiquette surrounding BYO-ing to your friend's house (plus I love a good etiquette question).
"A listener loves a liqueur. And loves to spread the love. But do they have to donate an expensive bottle to the party every time they BYOB? Or can they take it back at the end of the evening?"
Said cocktail is prosecco with St. Germain (the expensive liqueur) and a lemon peel. Lizzie provides a perfectly acceptable solution (minute 11:51) for sharing this lovely drink without having to re-stock your St. Germain all the time.
As a side note Lizzie also mentions her favorite St. Germain recipe which inspired this post. Think mojito but instead of using rum you use vodka and St. Germain. Add to it mint, lime juice, simple syrup and soda water. It makes for a very smooth and flowery libation.
I'd be remiss if I didn't also pay tribute to the creator of St. Germain, Robert J. Cooper, who passed away in late April at the age of 39.  He is credited with breathing new life into the liqueur business with his creation and marketing of St. Germain. I for one am glad he had the vision to create this new liqueur as I was an early adopter and have found many reasons to use it in cocktails.
Gluten-Free/Wheat Free Note:  As long as you use a gluten-free vodka (I like Ciroc) this recipe is gluten-free as St. Germain isn't made with any gluten-containing ingredients.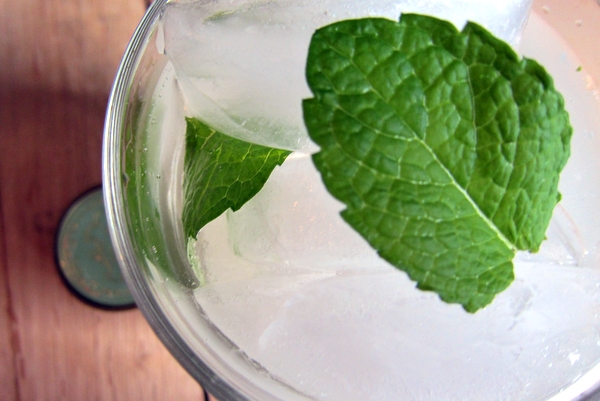 | | | |
| --- | --- | --- |
| Vodka and St. Germain "Mojito" | | Print |
Ingredients
12 fresh mint leaves, plus 2 sprigs for garnish
1-1/2 ounces simple syrup (see Notes)
1 ounce freshly squeezed lime juice (~ 1 lime)
3 ounces vodka
1 ounce St. Germain
club soda
Instructions
Place mint, simple syrup and lime juice in a highball glass.
Using a wooden muddler or back of a wooden spoon, muddle mint, syrup and juice together to form a good syrup.
Fill cup with ice cubes.
Pour in vodka and St. Germain. Mix with a spoon.
Top off with club soda and mix one more time.
Garnish with a sprig of mint.
Notes
* SIMPLE SYRUP
1 cup (8 ounces) water
1 cup granulated sugar
Bring the water to a simmer in a saucepan set over medium-high heat. Add the sugar and stir until it completely dissolves. Remove the pan from the heat. Set aside to cool to room temperature. Pour the syrup into a clean 1-pint bottle, cap it and refrigerate it until needed. Makes 1½ cups and keeps two months or longer in the refrigerator.