I could have a called this Farmers Market Gazpacho just as easily – I was very excited to get all of the ingredients at the Malvern (PA) Farmers Market this past Saturday for this tasty cold soup. While I love traditional Gazpacho this recipe provides a nice twist with the addition of the watermelon. The sweetness of the melon pairs well with the ripe, juicy tomatoes available this time of year. Look for an extra juicy watermelon (it should feel heavy for its size and have a hollow sound when tapped). The jalapeño adds just the right amount of kick – a whole one may sound like a lot but it's just right.
Thanks to the Kimberton CSA for the lovely watermelon, cucumber and jalapeño pepper and Down to Earth Harvest for the perfect tomato. They had quite the tomato selection making it hard to chose!
I love my weekly visit to the Malvern Farmers Market – seeing all of the fresh produce and other wonderful food is inspiring. I also like how everything that is sold there has to come from within a 35 mile radius of the market. I look forward to the Friday email telling me what's going to be at the market  (down to which vendor is selling what types of produce) – I find this very helpful especially if I do my weekly grocery shopping prior.
It's the perfect time of year for both a cold soup and a visit to your local farmers market.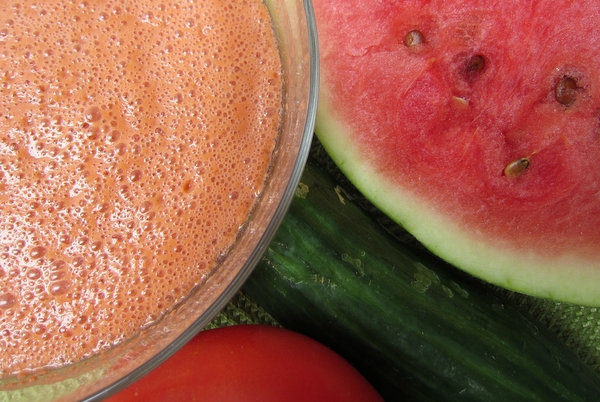 | | | |
| --- | --- | --- |
| Watermelon Gazpacho | | Print |
Ingredients
3 cups watermelon, coarsely chopped (about 3 pounds with rind)
1 large beefsteak tomato, coarsely chopped
1 large cucumber, peeled, coarsely chopped
1 jalapeño, seeds removed, sliced
2 tablespoons high-quality extra virgin olive oil plus more for serving
2 tablespoons Sherry vinegar or red wine vinegar
coarse sea salt and freshly ground black pepper
Instructions
Remove seeds from watermelon (if it's not a seedless watermelon). Combine watermelon, tomato, cucumber, jalapeño, olive oil and vinegar in the bowl of a Vitamix, blender or food processor and purée until smooth. You may need to do it in two batches.
Transfer gazpacho to a large bowl; season with coarse salt and pepper. Cover and chill at least 1 hour before serving.
Drizzle with extra virgin olive oil before serving.
Notes
* Can be made one day in advance.
* One batch fits in a 64 ounce Vitamix container perfectly.
Source:  Variation on recipe from 
Bon Appétit
, August, 2014