Many recipes in this month's issue of Bon Appétit cause you to think outside the box and trust that the team at BA did testing before finalizing these recipes. This one is a perfect example. While watermelon and feta have been a favorite combination in the past few years (see Watermelon, Feta and Arugula Salad) – here we've gone beyond feta.
When I told Ed about this salad I could tell he was skeptical. But he was pleasantly surprised and agreed that all of the flavors worked well together. There's sweet (watermelon), savory (rosemary) and tart (grapefruit juice).
I'd never fried rosemary. It's so easy and it intensifies the flavor of the herb even more plus it adds a nice "crispness" to the salad. Be sure to save the rosemary oil as you only drizzle a bit on the salad to finish it off. I used the leftovers on roasted potatoes the next night.
Hopefully you have access to a wonderfully tasty watermelon. I was excited when I saw some at our local farmers market. It was perfectly sweet and screamed"summer." Plus I got to use some of my new favorite local honey from Greenstone Gardens and Apiary in Malvern, PA (found at Worrell's Butcher Shop).
This salad would be a great addition to brunch or a BBQ. It also it pairs well with grilled lamb (you can never go wrong with lamb, rosemary and yogurt). It's also gluten-free/wheat-free.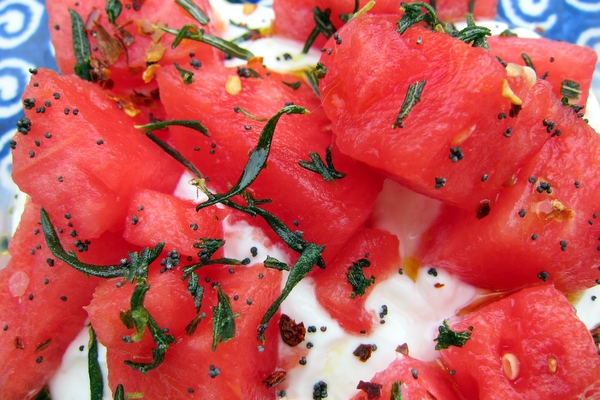 | | | |
| --- | --- | --- |
| Watermelon, Rosemary and Yogurt Salad | | Print |
Ingredients
2 tablespoons olive oil
3 sprigs of fresh rosemary
14 ounces plain whole-milk Greek yogurt
1-1/2 tablespoons honey
8 cups of cubed seedless watermelon cut into 2-inch pieces (~ 3 pound watermelon with rind)
3 tablespoons grapefruit juice (or other fresh citrus – orange, lime or lemon)
1 teaspoon crushed red pepper flakes
1 teaspoon poppy seeds
Flaky sea salt (such as Maldon)
Instructions
Heat oil in a small skillet over medium heat. Add rosemary sprigs and fry until crisp, about a minute. Transfer rosemary to paper towel to dry. Set rosemary olive oil aside.
Mix Greek yogurt with honey and a pinch of sea salt in a small bowl.
Toss watermelon with grapefruit juice in large bowl. Season with sea salt.
Spread yogurt mixture on a platter. Top with watermelon. Drizzle with one tablespoon rosemary olive oil. Add crumbled rosemary, red pepper flakes and poppy seeds.
Serve immediately.
Notes
* Fried rosemary and yogurt mixture can be made a few hours in advance. Refrigerate yogurt mixture.
* Plate salad just before serving.
* Save remaining rosemary olive oil for another use (such as roasted potatoes).
Source:  Variation on recipe from Bon Appétit, August, 2015