Recently my college/post-college roommate, Elisabeth R, and her husband, Dan S, visited us from Seattle. After a great visit to the amazing Longwood Gardens (the spring tulips were in full bloom) we went to a lovely lunch at Sovana Bistro in Kennett Square, PA.  Ed took the scenic route where we went by the Kennett Square water tower which proclaims Kennett Square as the "Mushroom Capital of the World." Not country, but world – this area produces over a million pounds of mushrooms a week! At lunch we shared a side of very fresh mushrooms (when in Rome…) to go with our very tasty meal.
This recipe is a great way to show off lots of different types of mushrooms as it includes dried porcinis along with a mix of fresh chanterelle, oyster, shiitake and baby bella. It's very adaptable so whatever you have access to will work (we'll be getting local ones at area farmers markets soon). Finish it off with a bit of truffle oil to bring all the flavors together. It may not be the prettiest dip but I promise that if you like mushrooms you're going to like this recipe.
Gluten-Free/Wheat-Free Option:  While the dip is entirely gluten-free/wheat-free, if you're looking for a cracker on which to serve it, I recommend Glutino Bagel Chips.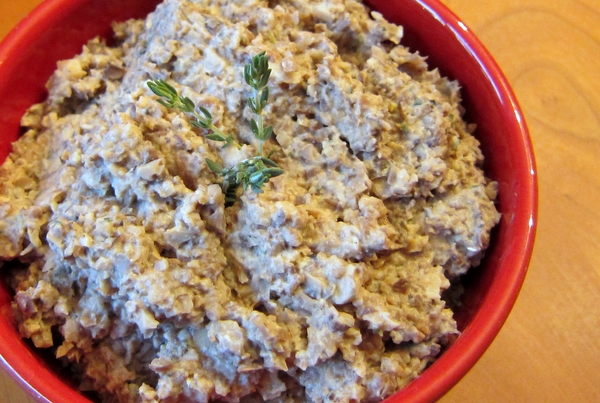 | | | |
| --- | --- | --- |
| Wild Mushroom-Truffle Dip | | Print |
Ingredients
½ ounce dried porcini mushrooms
2 tablespoons unsalted butter
1-1/2 teaspoons extra virgin olive oil
2 shallots, minced
2 cloves garlic, minced
1 pound of fresh mushrooms (chanterelle, oyster, shiitake, baby bella, etc.), coarsely chopped
3 tablespoons sherry
1-1/2 tablespoons chopped fresh thyme
¼ cup crème fraîche
2 teaspoons truffle oil (or to taste)
Salt and freshly ground pepper
Serve with toasted baguette slices or toast/bagel crackers
Instructions
Place the porcini mushrooms in a heat-safe bowl with 1 cup boiling water to cover. Let soak for 20 minutes or until tender. Remove mushrooms from water and squeeze dry. Chop mushrooms coarsely and set aside. Strain mushroom liquid through a fine sieve/strainer to remove any grit. Reserve ⅔ cup of mushroom liquid.
In a large heavy frying pan heat butter and olive oil over medium heat.
Add shallots and cook, stirring, until softened about 4 minutes.
Add garlic and cook for one more minute.
Add fresh mushrooms and dried mushrooms. Season with ½ teaspoon salt and ¼ teaspoon freshly ground black pepper. Sauté until mushrooms are brown and tender, about 8 minutes.
Add reserved mushroom liquid and cook until almost all of the liquid has evaporated, about 5 minutes.
Add sherry and cook for 1 to 2 minutes until most of the liquid has evaporated.
Remove pan from and stir in the thyme. Allow to cool to temperature.
Once cool transfer to food processor and add crème fraîche. Process until well combined and mixture is a bit chunky (or smooth if that's your preference). Add salt and pepper if needed.
Just before serving mix in truffle oil.
Serve at room temperature with toasted baguette slices or crackers.
Notes
* Can be made 2 days in advance. Store in refrigerator, covered.
* Try
Glutino Bagel Chips
for a gluten-free/wheat-free option.
* You can omit the truffle oil and it will still taste great.
Source:  Adapted from Nadia Arumugam's 
1000 Sauces, Dips and Dressings
 (2013)