"A" is for April and also for asparagus. While it's in season from February to June this is when you'll find the very best.  We love asparagus and eat more of it at this time of year as it's so good. Ideally we like a medium thickness but when it's super fresh any thickness will do.
This is one of my favorite dishes to make as it really shows-off good asparagus plus you can make it ahead of time and dress it just before serving. It's a perfect addition to a spring meal – and fancy enough to be part of an Easter or Passover meal.  
Personally it gives me a chance to use my asparagus platter. Yes, I have a platter just for asparagus. The scarier thing is that it's the second one I've owned as my first one broke in a move many years ago and I replaced it with a different one. Don't worry – it's the only vegetable-specific serving piece I have. I also have asparagus tongs and an asparagus steamer. Did I mention I like asparagus? And maybe an addiction to serving pieces?
Regardless of how you serve this asparagus I'm sure it will be a big hit.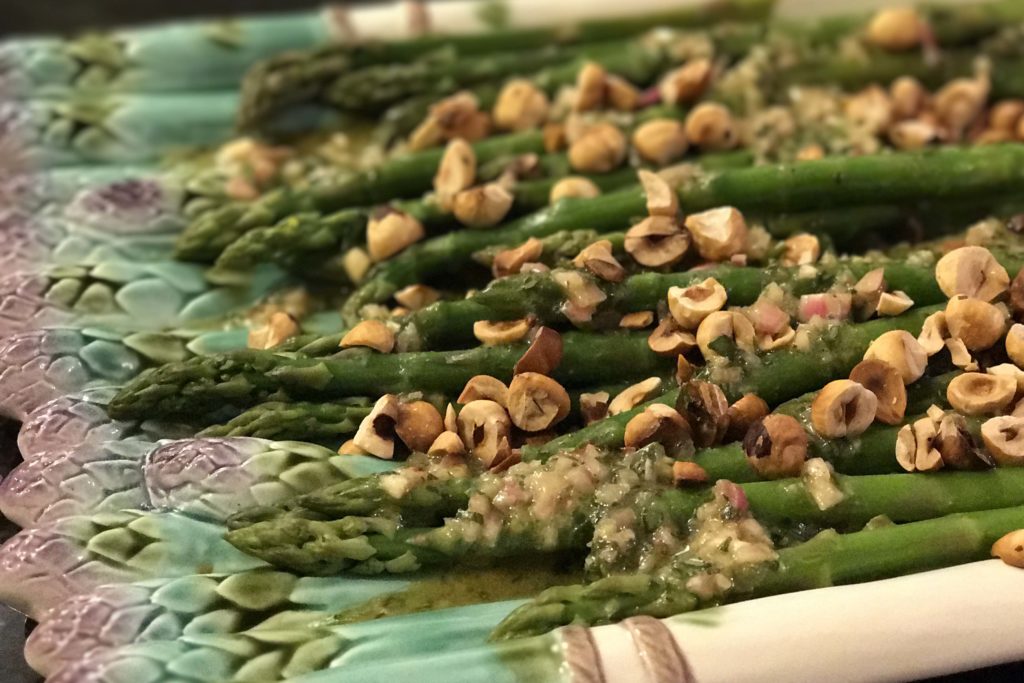 | | | |
| --- | --- | --- |
| Asparagus with Hazelnuts and Tarragon Vinaigrette | | Print |
Ingredients
1 pound asparagus
2 small shallots, chopped
3 tablespoons white wine vinegar
4 teaspoons chopped fresh tarragon
1 teaspoon Dijon mustard
5 tablespoons olive oil
¼ cup hazelnuts, toasted, husked, coarsely chopped
Instructions
Pour water into large pot to depth of 1-inch and bring to boil. Place asparagus on steamer rack set over water in pot. Cover pot and steam until asparagus is crisp-tender (do not overcook it), about 4 to 6 minutes (depending on the thickness of the asparagus. Transfer asparagus to bowl of ice water and cool for a minute. Drain and place asparagus on paper towels. (Can be prepared 6 hours ahead. Cover and refrigerate.)
Combine shallots, vinegar, tarragon and mustard in bowl. Gradually whisk in oil. Season to taste with salt and pepper. (Can be prepared 24 hours in advance. Cover and refrigerate.)
Before serving arrange asparagus on platter. Drizzle with vinaigrette. Sprinkle with hazelnuts.
Notes
* In a pinch you can substitute 1-1/4 teaspoons dried tarragon for fresh tarragon.
* Recipe can be doubled or tripled.