This month's Gourmet Dinner Club theme called for a high level of creativity especially since I was assigned the salad course. The theme? Muffin tins. Yes – everything had to be made in a muffin tin. I didn't think that putting a bit of lettuce in a cupcake wrapper would suffice, so I started thinking outside the box with the help of the internet. I found a way to make small corn tortilla bowls by inverting a regular 12 cup muffin tin and nestling the tortillas between the muffin cups. You end up with 4 tortilla cups per muffin tin. If you decide to make these, spray the cooking oil lightly to minimize the grease and serve them within a hour or two of making them. Otherwise they become very tough and chewy.
While the tortilla bowls were fun (and my friends were impressed with my imagination) the salad was the real star. It's another opportunity to use what's left of this year's corn and heirloom cherry tomato harvest. Both go very well with avocado, black beans and chili-lime vinaigrette. If you decide to skip the corn tortilla bowls, then I'd recommend serving a few tortilla chips along side. You could also turn this into a salsa (you may want to chop up the ingredients a bit more) and if you do, then use the scoop tortilla chips.
The corn tortilla bowls are easy to make and would be a fun addition to a party. Plus, they're gluten-free and wheat-free. Thanks to Eatingwell.com for the recipe.  EatingWell is a great magazine, too, with lots of healthy recipes and interesting articles, plus it's out of Vermont and often reminds me of our summers up on Lake Champlain.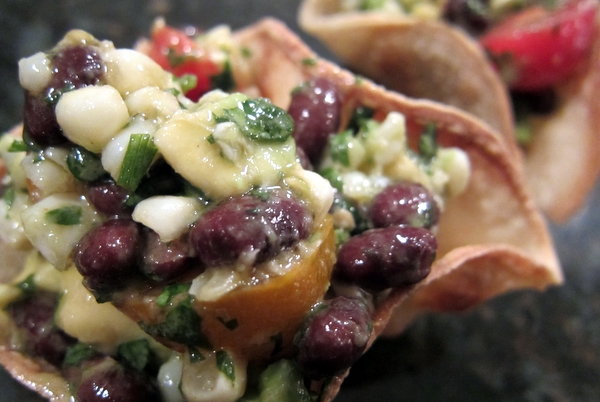 | | | |
| --- | --- | --- |
| Avocado-Black Bean Salad | | Print |
Serves:
Makes about 6 cups or enough to fill 12 to 15 corn tortilla bowls.
Ingredients
2 avocados, peeled and diced
1 15-ounce can black beans, rinsed and drained well
3 ears fresh corn, cooked and kernels removed from cob (about 2-1/4 cups)
1 pint heirloom cherry tomatoes or grape tomatoes, halved
3 scallions, finely chopped
½ cup chopped cilantro (about one large handful chopped)
1 ounce freshly squeezed lime juice (from 1-2 limes)
zest of one lime
1 medium garlic clove, minced
¼ teaspoon dried chipotle pepper
3 ounces extra virgin olive oil
Serve with a few tortilla chips or in corn tortilla bowls (see Notes)
Instructions
Whisk lime juice, lime zest, garlic and chipotle pepper in a small bowl to blend. Add olive oil in a steady stream while whisking. Season with salt and pepper.
Place black beans, corn, tomatoes, scallions and cilantro in a medium bowl. Toss with dressing to coat.
Cover and refrigerate at least an hour and up to three hours before serving. Just before serving add the avocado (this is to minimize discoloration).
Serve in corn tortilla bowls or with tortilla chips.
Notes
* You'll find the recipe on EatingWell.com for
corn tortilla bowls
.
* You may not need all of the dressing as the tomatoes give off some liquid.
* Cooking Corn on the Cob: An easy way to prepare corn on the cob (especially if you are only cooking a few ears): Shuck each ear of corn. Wrap each ear of corn in wax paper. Place in microwave. Cook on high – 2 minutes for each ear of corn. (2 ears – 4 mins, 3 ears – 6 mins, etc.) Remove from microwave and open carefully.
* You can use frozen or canned corn.