Ed's most favorite sporting event of the year is upon us – the Masters! In preparation for this big event a few weeks ago we tried out the traditional drink of the Masters for our Sunday night cocktail. We figured we better get it right before the golf tournament actually started.
This cocktail takes its name from the beautiful azalea bushes that are all over the golf course and are in full bloom just in time for this tournament. We used vodka as a base, but you can also use gin. Add to it pineapple juice, lime juice and splash of grenadine. Use a non-wheat vodka (such as Cîroc) to make this gluten-free.
We didn't have any grenadine in our bar (I had discarded it long ago) so I added it to my list. Before placing the grenadine to my grocery cart I looked at the ingredients – big mistake. Did you know that traditional Rose's Grenadine – the staple of any bar – is made entirely of artificial ingredients with high fructose corn syrup at the top of the list? That's when I decided to make my own natural grenadine out of pomegranate juice, sugar and lemon juice ("grenadine" is French for pomegranate). Just like there are many colors of azaleas you can vary the color of this drink by the amount of grenadine you add to it – the less you add the lighter the pink.
I hope you'll whip up a batch of these while you enjoy the best major of the year.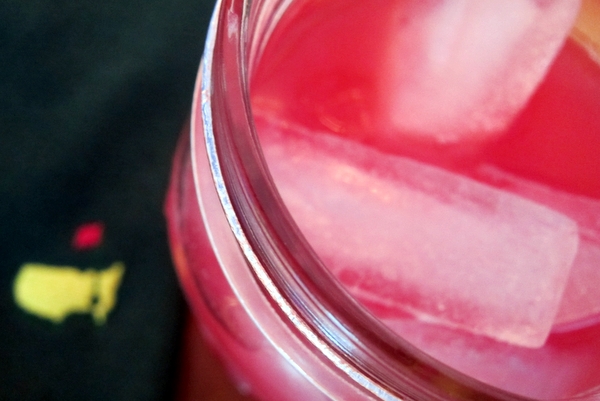 Ingredients
2 ounces lime juice (~ 2 to 3 limes)
2 ounces pineapple juice
4 ounces vodka
¼ ounce grenadine, preferably homemade
lime wheel for garnish
Instructions
Freshly squeeze lime juice.
Fill shaker half way with ice.
Add lime juice, pineapple juice, vodka and grenadine.
Strain into highball glasses or mason jars filled with ice.
Serve each with a wheel lime slice
Notes
* You can substitute gin for vodka if that's your preference
* Use non-wheat vodka to make this gluten-free