I often serve honey as part of a cheese platter. Here I've paired the honey with melted cheese so the flavors of the cheese and the honey blend together nicely. Adding the pistachios provides some texture and works well with the intense cheese and sweet honey.
While Brie is the suggested cheese, I recommend you experiment with other cheeses that melt well. I used Douceur du Jura, a French cow's milk cheese because I had heard that it melts very well and sure enough it did. And, I used a raspberry honey – the raspberry flavor was very subtle and paired well with the cheese and the nuts.
This recipe can easily be adapted – change the cheese, flavor of the honey or the nuts.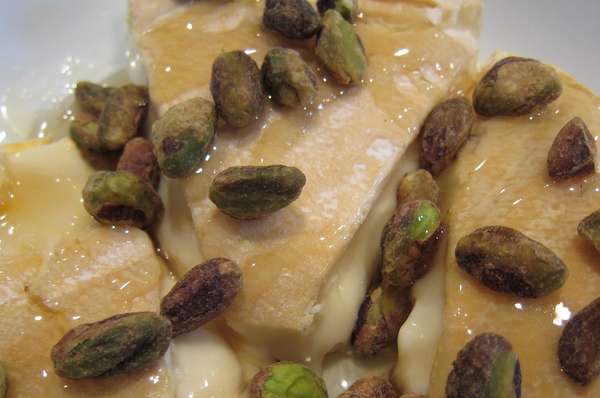 | | | |
| --- | --- | --- |
| Baked Brie with Honey & Pistachios | | Print |
Ingredients
1 wedge of Brie or any soft cheese that melts well
2 tablespoons honey (or to taste)
¼ cup pistachios (whole or coarsely chopped)
Baguette slices or crackers
Instructions
Cut the Brie in to two to three pieces and place in an oven-proof dish. Drizzle honey over the cheese and finish by sprinkling pistachios over cheese and honey.
Bake at 350°F for about 5-7 minutes until cheese is melted.
Serve with baguette slices or crackers.
Notes
I used Douceur du Jura, a French soft cheese that is similar to Brie, but melts a bit easier. I found it in the cheese section at Wegmans.