I've been making "just okay" hummus from scratch for years – better than what you buy pre-packaged at the grocery store but nothing amazing. Recently I decided that I needed to step it up so I searched "greatest hummus recipe" to get some inspiration. The number one hit happened to be from a restaurant in Philadelphia so I took that as a good sign – not because the City of Brotherly Love is known for its hummus (it's not) but because it's where I live. To be more exact it's from a hummusiya named Dizengoff which serves hummus and pickles in a casual setting. It turns out that Bon Appétit magazine named chef Michael Solomonov's hummus the 2015 Dish of the Year. This was good enough for me so I set about tackling this recipe.
While the staple ingredients may be the same (chickpeas, tahini, lemon juice, garlic and cumin) the process for making this delicious hummus is quite different from any recipe I've ever read or tried.
Let's take a look at what it takes to make the Best Ever Hummus:
•  Start with dried chickpeas (I'd always used canned) and soak them for eight to 12 hours in baking soda (a new addition). More baking soda is added to the pot when the chickpeas are cooked, too. This addition increases the pH of water so the chickpeas break down which contributes to making an extra smooth hummus that's not grainy at all. It also means that you don't have to take the "skins" off the cooked chickpeas which is a lot of work and is often a method for getting extra creamy hummus.
•  While I love garlic I don't love it when there's too much raw garlic in anything. Here the garlic (with the skins on – that's not a typo) is puréed with the lemon juice and salt in a food processor and left to sit for about 10 minutes so the garlic flavor becomes less intense. Then it's strained leaving only the garlic-lemon juice behind (no solids).
•  Olive oil is only used as a topping. I've always increased the amount of olive oil in my traditional recipe to help get the right texture. No need here. The chickpeas are falling apart mushy and the tahini mixture is already creamy. Once everything is in the food processor you let it mix for four minutes until it's very smooth. That's also the longest I've ever run my food processor.
•  You can't rush a good thing so make sure you have time to follow the recipe. You'll need to start the night before (or at least 8 to 12 hours before) so the chickpeas can soak. They then need to cook for 60 to 75 minutes before you mix all of the ingredients in a food processor.
So if you've read this far you're likely thinking "Wow, this is a lot of work – is it really worth it?" The answer is "Absolutely!" I've made two separate batches and served it to a variety of people. They all agree that it's the creamiest and most flavorful hummus they've ever had. The smiles on their faces told me it was worth it!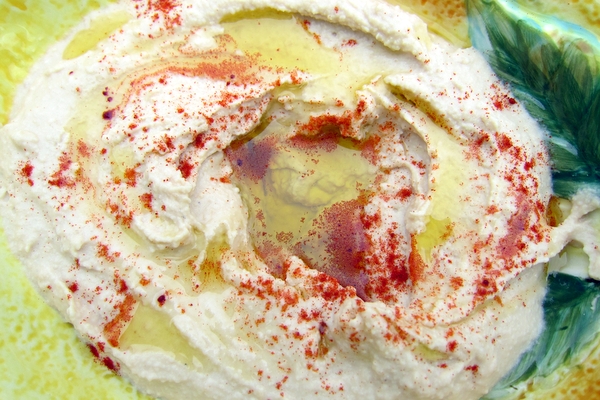 Ingredients
1 cup dried chickpeas
2 teaspoons baking soda, divided
4 garlic cloves, unpeeled
⅓ cup (or more) fresh lemon juice
1 teaspoon kosher salt, plus more
⅔ cup tahini
¼ teaspoon (or more) ground cumin
Olive oil (for serving)
Smoked paprika (for serving)
Instructions
The night before: Place chickpeas and 1 teaspoon baking soda in a medium bowl and add cold water to cover by 2 inches. Cover and let sit at room temperature until chickpeas have doubled in size, about 8 to 12 hours. Drain and rinse.
Combine soaked chickpeas and remaining 1 teaspoon baking soda in a large saucepan and add cold water to cover by at least 2 inches. Bring to a boil, skimming surface as needed. Reduce heat to medium-low, partially cover, and simmer until chickpeas are tender and really falling apart, 60 to 75 minutes. Drain; set aside.
Meanwhile, process garlic, lemon juice, and 1 teaspoon salt in a food processor until coarsely puréed; let sit 10 minutes to allow garlic to mellow.
Strain garlic mixture through a fine-mesh sieve into a small bowl, pressing on solids to release as much liquid as possible. Return liquid to food processor; discard solids.
Add tahini and pulse to combine. With motor running, add ¼ cup (4 tablespoons) ice water by the tablespoonful and process (it may seize up at first) until mixture is very smooth, pale and thick.
Add chickpeas and cumin and process, occasionally scraping down sides, until mixture is extremely smooth, about 4 minutes. Thin with more water if you prefer a looser consistency; taste and season with salt, more lemon juice and more cumin as desired.
Transfer to an airtight container. Put a piece of plastic wrap directly on the hummus and then the container lid. (This prevents a "crust" from forming on the hummus.) Hummus will keep for about a week.
Before serving, spoon hummus into a shallow bowl. Make a well in the center and drizzle liberally with olive oil. Top with a dash of smoked paprika.
Notes
* Recipe can be doubled as long as you're using a large food processor.
* Using the best ingredients is key so look for the best tahini and olive oil you can find.
Source:  Variation on recipe from 
Bon Appétit
, September, 2015