It took me a while to find the perfect scone recipe. I like scones because they are not too sweet. I tried a variety of different recipes and was never satisfied. And, then Ed and I made a pilgrimage to King Arthur Flour in Norwich, VT, on our way from Boston to Lake Champlain one summer (well worth the slight detour off the major highway). We bought some of their scone mixes and were very impressed (and it wasn't just because we baked them on vacation). Not being one who likes to use mixes, I went to their website and found their basic scone recipe and have been happily making it ever since.
It's an easy recipe and quite adaptable.  Here I used dried blueberries and lemon zest, but you can flavor it with anything. If you like to bake scones, I highly recommend investing in a mini-scone pan – they produce uniform looking scones without any fuss. But, free form scones are a great alternative.
You can make these ahead of time as they freeze well – wrap them in aluminum foil, freeze them and defrost the night before.  Pop them in the oven to warm them up and you'll see some happy faces. They make a great addition to holiday breakfast or brunch table.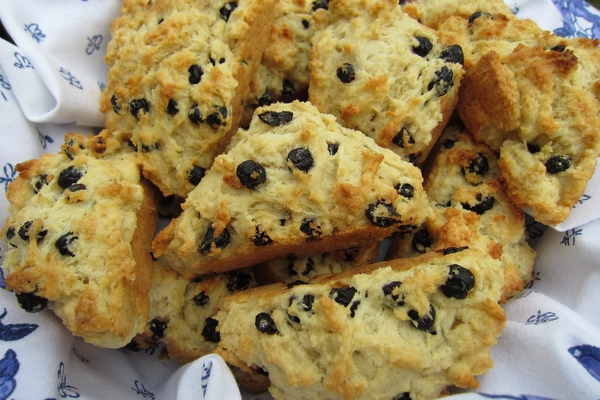 | | | |
| --- | --- | --- |
| Blueberry and Lemon Scones | | Print |
Serves:
Makes 12-16 scones
Ingredients
2¾ cups all-purpose flour
⅓ cup sugar
¾ teaspoon salt
1 tablespoon baking powder
½ cup cold butter (1 stick), cut into small pieces
1 cup dried wild blueberries
Zest of 1 lemon
2 large eggs
2 teaspoons vanilla extract
½ cup to ⅔ cup half and half or milk
Optional Topping:

2 teaspoons milk
2 tablespoons sparkling white sugar or cinnamon sugar, optional
Instructions
In a large mixing bowl, whisk together the flour, sugar, salt, and baking powder.
Work in the butter just until the mixture is unevenly crumbly; it's okay for some larger chunks of butter to remain unincorporated.
Stir in blueberries and lemon zest.
In a separate mixing bowl, whisk together the eggs, vanilla, and half and half or milk.
Add the liquid ingredients to the dry ingredients and stir until all is moistened and holds together.
Select the shape of your scone:
For mini-scone baking pan scones (makes 16): Fill each triangle with dough and smooth it out. If you have extra dough, follow directions below for "free-form scones" – I usually have enough to make 2 or 3 extra.
For free-form scones (makes 12-16): Line a baking sheet with parchment; if you don't have parchment, just use it without greasing it. Sprinkle a bit of flour atop the parchment or pan. Using about ⅓ cup of mix for each scone, drop each scone on a baking sheet (like you would drop cookies). Flatten each scone a bit so they bake evenly.
For wedge-shaped scones (makes 12): Line a baking sheet with parchment; if you don't have parchment, just use it without greasing it. Sprinkle a bit of flour atop the parchment or pan. Scrape the dough onto the floured parchment or pan, and divide it in half. Round each half into a 6" circle. The circles should be about ¾" thick. If you haven't incorporated any add-ins make a 5" circle. Using a knife or bench knife (scraper) that you've run under cold water, slice each circle into 6 wedges. Carefully pull the wedges away from the center to separate them just a bit; there should be about ½" space between them, at their outer edges.
Optional Topping: Brush each scone with milk, and sprinkle with coarse white sparkling sugar or cinnamon sugar, if desired.
For best texture and highest rise, place the pan of scones in the freezer for 30 minutes, uncovered. While the scones are chilling, preheat the oven to 425°F.
Bake the scones for 20 to 25 minutes, or until they're golden brown. They should look baked all the way through; the edge shouldn't look wet or unbaked. They will have a dark-gold outer crust, and a light-gold, moist inner crumb.
Remove the scones from the oven, and cool briefly on the pan. Serve warm. When they're completely cool, wrap in plastic and store at room temperature for several days or freeze for a few months.
Notes
*This recipe is easily adapted for your tastes - try chocolate chips and orange zest, walnuts and dried cranberries, butterscotch chips, etc. the options are endless.
* These scones freeze well – wrap them in aluminum foil and place in freezer bag. Defrost overnight.
* Scones are even better when heated up. Preheat your oven to 350°F. Wrap scones in aluminum foil and place on a baking sheet (or directly on the oven rack). Heat for about 10 minutes.
* For a less traditional, slightly sweeter scone, increase the sugar in the dough to ½ cup (3½ ounces).
* Why freeze the scones before baking? The 30 minutes in the freezer relaxes the gluten in the flour, which makes the scones more tender and allows them to rise higher. It also chills the fat, which will make the scones a bit flakier.
* Why are there two measurements for half and half or milk? Flour is like a sponge; it absorbs liquid during humid weather, and dries out in dry weather. In summer or when it's hot and humid, use the lesser amount of milk or half and half in this recipe; during winter, or when it's very dry, use the greater amount. Either way, start with the smaller amount, and drizzle it in till the dough is the correct consistency.
Variation of a recipe from King Arthur Flour