I was looking for a summer appetizer recipe – something that involved fruit and cheese. I decided to make a compote using precious summer blueberries. Compotes are less sweet than jams or jellies. They also contain more defined fruit and are usually served shortly after cooking (rather than being jarred).
I liked the idea of a compote as it naturally shows off the sweetness of the fruit. Here I added just a bit of honey but if I had been been making a jam or jelly I would have added a cup or more of sugar. Blueberries are often paired with lemon however I took a slightly different path by using fresh lemon verbena from my garden. Chopping up the lemon verbena releases its natural lemon flavor. And topped it off with a squeeze of fresh lemon juice.
I served this compote aside a French triple crème cheese (Délice de Bourgogne from Fromagerie Lincet) and medium California blue cheese (Port Reyes Original Blue from Point Reyes Farmstead Cheese Company). Both paired well with the compote – the triple crème evoked a bit of a cheesecake taste while the blue was more of a bold contrast. And my Gourmet Dinner Club (GDC) friends couldn't get enough of the compote-cheese combination.
This compote could also be served atop some grilled pork tenderloins or served up for breakfast with waffles or pancakes.
Gluten-Free/Wheat-Free Option:  The compote is entirely gluten-free/wheat-free. I specifically selected the Délice de Bourgogne as it came pre-packaged so there was little risk of cross-contamination. Both cheeses came from my local Wegmans which has an amazing cheese shop but many of the cheeses are cut and wrapped at the store so the risk of coming in contact with gluten or wheat is a bit higher.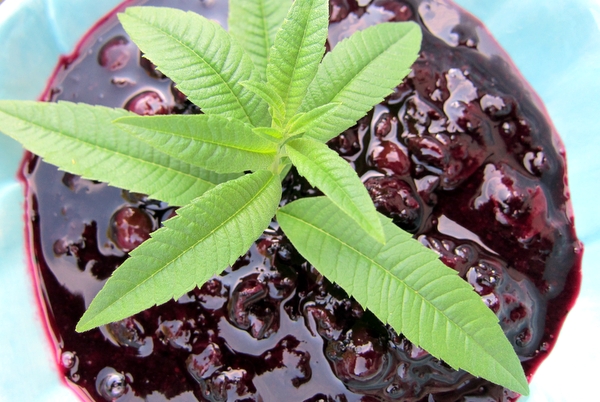 | | | |
| --- | --- | --- |
| Blueberry-Lemon Verbena Compote | | Print |
Ingredients
2 cups fresh blueberries, divided
½ cup (packed) fresh lemon verbena, chopped
3 tablespoons water
3 tablespoons honey
1 teaspoon freshly squeezed lemon juice
Serve with cheese and crackers
Instructions
Place half of the blueberries (1 cup) in a medium saucepan.
Add chopped lemon verbena, water and honey.
Cook over medium-high heat. Once it begins to boil, reduce heat to low and simmer for an additional 10 minutes.
Using a wooden spoon or rubber spatula gently smash the blueberries against the side of the pan.
Add remaining blueberries (1 cup) to the blueberry mixture. Cook for an additional 6 to 8 minutes.
Remove from heat and stir in lemon juice.
Serve at room temperature.
Notes
* You can use frozen blueberries in place of fresh – there's no need to defrost them.
* If serving atop waffles or pancakes, I recommend heating the compote for 1 to 2 minutes in the microwave.