My first memory of a baked brie is from a holiday party my parents had back in the early 1990's. Perhaps I had one prior but that's a food memory that has stuck with me. Gooey cheese, jam and pastry all baked together. It doesn't get much better than that.
Baked brie is not only super easy to make it's also very easy to adapt to include your favorite things. Here I've used almonds and brown sugar and then covered in in bourbon. The bourbon pairs well with the ripe brie. Don't worry if it's a little messy when it comes out of the oven – I promise nobody will mind. Over the years the recipe may have changed (notice the pastry is gone) but I still get excited about the prospect of cutting into that melted round of cheese.
Holiday Tip:  Brie keeps for a few weeks so keep a wheel on hand in case you have some unexpected guests stop by and need a quick appetizer. This also travels well as it can easily be assembled on the spot and popped into the oven at your final destination.
Gluten-Free/Wheat-Free Options:  Is brie gluten-free? The cheese itself is but there is some question about the rind. If the mold spores used to make it were grown on wheat or rye bread than it may contain trace amounts of gluten (the same is the case for many blue cheeses). If you're gluten-sensitive look for a brie that is labeled gluten-free such as one from Boar's Head. If you can't find a wheel a wedge will do – it may just look a bit more messy but it will taste just as good.
While the ingredients used to make bourbon contain gluten many believe that the distillation process removes the gluten. As a result some with gluten sensitivities are okay with bourbon while others are not. If you're concerned use rum (distilled from sugar cane and gluten-free) in place of bourbon.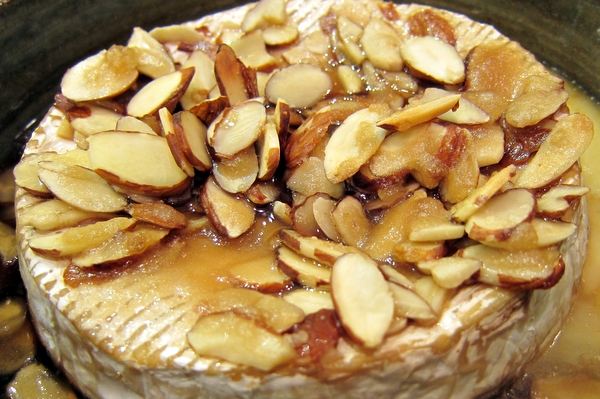 | | | |
| --- | --- | --- |
| Bourbon and Almond Baked Brie | | Print |
Ingredients
8 ounce wheel of brie
⅓ cup sliced almonds
2 heaping tablespoons brown sugar
2 ounces bourbon
Serve with: baguette slices or crackers
Instructions
Place brie in a brie baking dish or oven safe dish that's slightly larger than the brie. Let sit for an hour.
Preheat oven to 350°F.
Sprinkle almonds then brown sugar on top of brie. Pour bourbon all over.
Bake for 10 to 15 minutes until brie is runny.
Serve immediately.