When I think Thanksgiving pies, three come to mind – pumpkin, apple and pecan. While I like pumpkin and apple pies, pecan is definitely my favorite. Before I stopped eating wheat I used to make a pecan-chocolate tart for Thanksgiving. I've always felt more comfortable making tart dough (I'm fortunate that many in my family are good at making pies so I didn't need to be) plus I prefer the crust-to-filling ratio that you get with a tart versus a pie.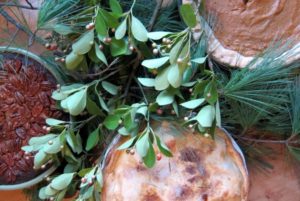 Without wheat flour I decided to take an alternative path and make a ginger snap pie crust instead (cookie crusts are so much easier to make). Gluten-free ginger snaps are very close to original ginger snaps that you'd never know the crust was gluten-free. Plus the bite you get from ginger snaps offsets the sweetness of the pecan pie filling making for a nice contrast.

Many pecan pies are made using corn syrup as the primary sweetener. Here I'm using honey – you can also use sorghum, cane or non-high fructose dark corn syrup – all of which are less-refined sweeteners. Add to that a bit of bourbon or rum which give it a bit more depth.

This pie is great for non-gluten eaters and gluten eaters alike. But it can also be made with all-purpose flour and regular ginger snaps (substitute 1:1) if you have no need to make it gluten-free. Pictured above are our three pies from last Thanksgiving – yes, you guessed it, pecan, apple and pumpkin.

Bourbon vs. Rum:  While the ingredients used to make bourbon contain gluten many believe that the distillation process removes the gluten. As a result some with gluten sensitivities are okay with bourbon while others are not. If you're concerned use rum (distilled from sugar cane and gluten-free) in place of bourbon.
Holiday Tip:  You can start to prepare this a few days in advance. Begin by grinding up the ginger snaps (up to 4 days in advance) then prepare and bake the pie crust (1 day in advance). The filling is easy to make and before you know it the pie will be be in the oven. The pie can be baked and stored at room temperature for up to a day before serving.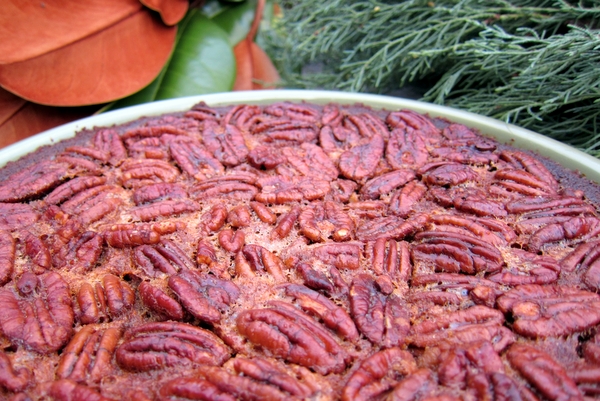 | | | |
| --- | --- | --- |
| Bourbon-Pecan Pie with Ginger Snap Crust (Gluten-Free) | | Print |
Ingredients
4 tablespoons (1/2 stick) unsalted butter, melted (more butter used below)
1-1/2 cups gluten-free ginger snap cookie crumbs (8 ounces)
½ cup granulated sugar
¼ cup packed light brown sugar
1-1/2 teaspoons gluten-free flour
½ teaspoon fine sea salt
4 large eggs
1-1/2 cups honey (or sorghum, cane or dark corn syrup)
2 tablespoons bourbon or dark rum
1-1/2 tablespoons unsalted butter, melted
1-1/2 teaspoons pure vanilla extract
1-3/4 cups unsalted pecan halves (~ ½ pound)
Instructions
Make the Crust:
Preheat oven to 325°F.
Grind ginger snaps in a food processor or Vitamix. (Can be done a few days in advance; store tightly sealed at room temperature.)
In a small bowl, combine butter and cookie crumbs.
Press firmly into a deep 9-inch glass or ceramic pie dish.
Bake for 10 minutes.
Remove from oven and cool on rack for 10 minutes. (Can be done 1 day in advance of baking pie; store covered at room temperature.)
Make the Filling:
Adjust oven temperature to 350°F.
In a bowl, whisk granulated sugar and light brown sugar with flour.
Add sea salt and eggs and whisk until smooth.
Mix in honey.
Mix in bourbon or rum, butter and vanilla.
Fold in pecans.
Pour filling into the prepared crust and transfer pie to a foil-lined baking sheet.
Bake uncovered for 75 to 90 minutes until the filling is nearly set.
Transfer the pie to a rack and let cool completely, about 4 hours, before serving.
Store, covered, at room temperature for up to a day.
Notes
* Use
MI-DEL Gluten-Free Ginger Snaps
. They taste just as good as the "with gluten" version. Don't need to make it gluten-free? You can use the same amount of regular ginger snaps.
* Recipe works well with gluten-free flour (such as
Cup4Cup Multipurpose Flour
) or all-purpose flour.
* You can use a dark rum in place of bourbon to ensure it's 100% gluten-free.
* Concerned about the crust getting too dark? Put an aluminum foil rim around the edge of the crust to protect it.
Source:  Variation on recipe from Food & Wine