When I set out for a day's worth of festivities surrounding and including the 115th Army-Navy game last December in Baltimore I didn't expect to come home with the inspiration for one of our new favorite recipes. After the game at M&T Bank Stadium we took a brisk walk to The Capital Grille in the Inner Harbor. Since we were a large group our host had selected a limited menu with a lot of wonderful options including a new Brussels sprout salad. Ed and I both love Brussels sprouts but had never had them raw in a salad form. Oh, this salad was so good that I seriously considered skipping the filet mignon that I'd ordered for my entrée to get more of it.
Needless to say I became a bit obsessed about making this at home. I wasn't able to find the exact recipe online but did come up with one that was pretty close that satisfied our cravings. Ed likes this so much that he's even asked me to make it twice in one week!
Be sure to grate and chop the Brussels sprouts so the are pretty fine.  Think of how you'd prepare cabbage for coleslaw. I do this in my food processor using whole Brussels sprouts – first with the grating disk and then a second time with the chopping blade. Wegmans also sells Brussels sprouts already grated – if I buy them this way I will chop them up a bit more using a chef's knife.
The mustard vinaigrette is key to this recipe, but the cheese, nuts and fruit can be changed to suit your tastes. Use feta in place of goat cheese, pecans or almonds for walnuts, or dried cranberries for dried cherries.
I'd even recommend trying this salad on non-Brussels sprouts eaters – I think you may see some converts. Maybe you tell them it's new type of coleslaw since Brussels sprouts are part of the cabbage family?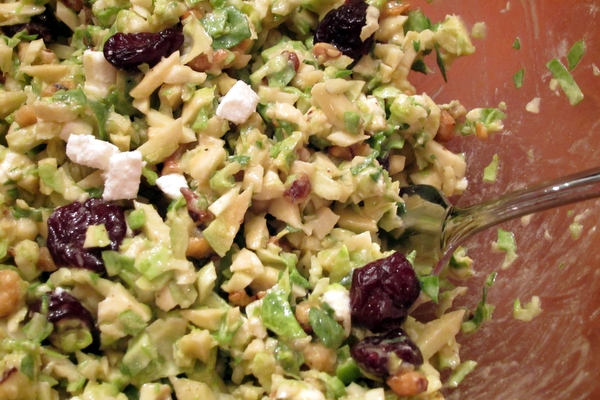 | | | |
| --- | --- | --- |
| Brussels Sprout Salad with Mustard Vinaigrette | | Print |
Ingredients
⅓ cup chopped walnuts, toasted
½ pound Brussels sprouts (about 20), thinly shaved/grated
2 ounces goat cheese, crumbled
⅓ cup dried cherries
1-1/2 teaspoons Dijon mustard
4-1/2 tablespoons extra virgin olive oil
1-1/2 tablespoons walnut oil
1-1/2 tablespoons lemon juice
1-1/2 teaspoons sherry vinegar
Salt and freshly ground black pepper, to taste
Instructions
Preheat oven to 350°F. Toast walnuts on a cookie sheet for about 10 to 15 minutes, stirring halfway through. Watch them carefully so they don't burn.
To shave the Brussels sprouts: 1) use a mandolin, 2) carefully cut them by hand, or 3) use the grating disk in a food processor to shave the whole Brussels sprouts. If they aren't fine enough, then use the chopping blade in the food processor (you'll need to empty them into a bowl to switch blades).
Place mustard in a bowl. Slowly add olive oil and walnut oil while whisking. Whisk in lemon juice, sherry vinegar and salt and freshly ground black pepper.
Place Brussels sprouts, walnuts, goat cheese and cherries in bowl. Toss with dressing.
Can be made 2 hours in advance and refrigerated.
Serve at room temperature.
Notes
* You may be able to find already shaved Brussels sprouts at your grocery story (Wegmans usually has them). This saves some work but I do like to chop them up a bit with a chef's knife.
* You can vary the cheese/nut/fruit combination to suit your tastes. Feta, walnuts and dried cranberries works well.