I consider myself somewhat of a gourmet cook, after all I write a food blog, right? That's why I find it so humorous that more people have asked me for this recipe than any other thing I make! And, while it's very, very tasty, let's just say that Buffalo Chicken Dip isn't exactly gourmet. 
One of the ladies in my Bunco group made this years ago and now you see it at almost all of our Bunco gatherings – it is a staple when I host. I once tried another version (given to me by another foodie friend) and while it was good, it didn't beat this one.
I used to love traditional Buffalo chicken wings, but stopped eating them a long time ago – for health reasons because they are fried and it's hard not to eat the skin. This is a great altenative and let's just say, not quite as bad for you (no skin, no dark meat and no frying).
I actually had a man offer to marry me because he loved this dip so much, but we both agreed that since we were both already married that he would settle for the recipe. That's how good this dip is!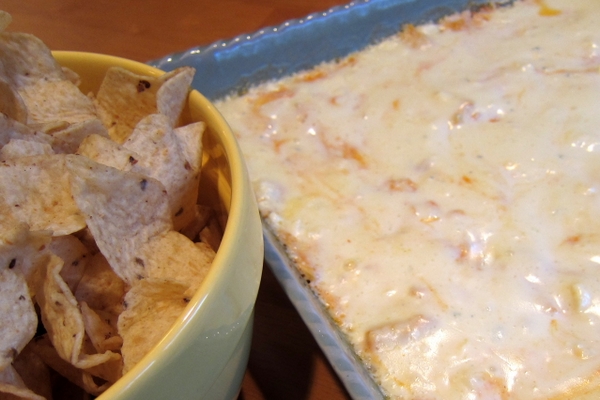 | | | |
| --- | --- | --- |
| Buffalo Chicken Dip | | Print |
Serves:
12 (with other appetizers)
Ingredients
8 ounces of cream cheese, softened
1 to 1.5 pounds of chicken breasts (3-4 breasts)
Hot Sauce (see Note)
12 ounces Chunky Blue Cheese dressing
Tortilla chips
Celery
Instructions
Poach, bake or grill chicken until done (about 25-30 minutes), when cool, coarsely shred chicken.
Mix chicken with the hot sauce, to taste.
Spread softened cream cheese onto bottom of an oven-proof dish (such as a pie plate or square dish). Spread chicken and hot sauce mixture over cream cheese. Pour and spread blue cheese dressing over top (you may not need the entire jar/bottle).
Bake at 350°F for about 15-20 minutes or until bubbly and slightly browned on top.
Notes
* You can prepare it the night before and refrigerate it until you're ready to cook it – add 5-10 minutes to the cooking time.
* Light cream cheese works well.
*
Frank's Red Hot Buffalo Wing Sauce
(regular heat, not "hot"). If you can't find the "Buffalo Wing" version, use Frank's Red Hot Sauce which was used in the original Buffalo Wing recipe. Some people have told me that their dip doesn't turn out as well as when I've made it – the best that we can tell is that they used a different hot sauce, so try to find the Frank's Red Hot Buffalo Wing Sauce.
* Marie's Premium Super Blue Cheese (25% more blue cheese) – found in the refrigerator section. I use about 10 ounces of the 12 ounce jar.
* Best served with Tostito's Scoops tortilla chips (needs a hearty chip).
* For a larger quantity, I use a 9"x13" pan with 4-5 large chicken breasts (about 2 to 2.5 pounds), 16 ounces of cream cheese and all the blue cheese dressing.