I first had a Chamomile tea cocktail at my youngest sister's (Sarah S) bachelorette party back in 2004. We ended a fun night in Boston with a drink at the Copley Hotel bar. It's only taken me 13 years to pay tribute to that memorable drink. Infusing liquor with tea is easier than you think and the result is a simple but sophisticated libation. In just 12 hours you can make Chamomile tea infused vodka with just tea, vodka and a mason jar.
For this version I procured the tea from Winsome Tea Co. at the Growing Roots' Malvern Farmers Market. If you like tea and live in the Malvern, PA area, please check out Winsome Tea Co. as they have a lovely selection and are quite knowledgeable about their product. Chamomile tea is made from from Chamomile flowers, not tea leaves and is an herbal tea so it's naturally caffeine-free. It has a lovely crisp apple and floral aroma and flavor. In fact, the word "Chamomile" comes from the Greek words for "ground apple."
I wanted both the smell and taste of the tea to come through so I didn't add a lot of other ingredients other than some lemon and honey (both which pair well with tea). I was happily surprised by the result – a few ingredients and a bit time yielded a complex cocktail that really smooths out the vodka.
Gluten-Free/Wheat-Free Option:  If you're concerned about the gluten not being removed during the distillation process, use a gluten-free vodka such as Tito's (corn-based) or Ciroc (grape-based).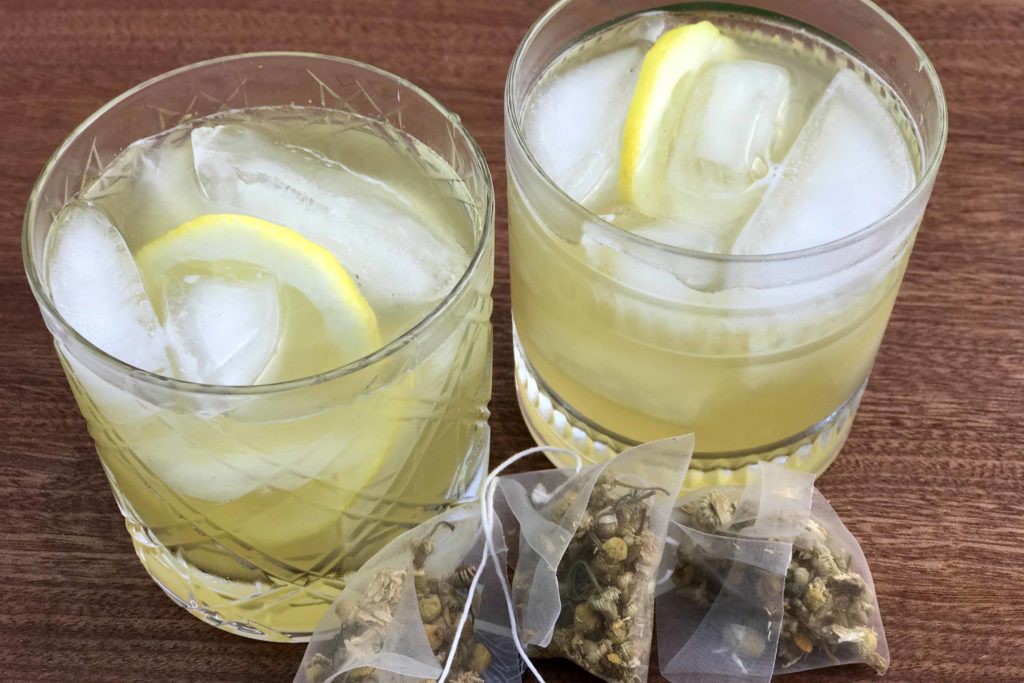 | | | |
| --- | --- | --- |
| Chamomile Tea Vodka Cocktail | | Print |
Ingredients
250 ml vodka
3 tablespoons loose Chamomile (~3 to 4 tea bags)
4 ounces infused Chamomile vodka
2 ounces lemon juice (from ~ 2 lemons)
2 tablespoons honey
Lemon slices (for garnish)
Instructions
Instructions
To make tea infused vodka:
Place vodka and loose tea in a medium mason jar and cover tightly.
Shake jar occasionally and let it steep for about 12 hours.
Strain vodka through a fine mesh strainer into a large measuring cup.
Pour tea infused vodka back into the original mason jar.
Fill two old-fashioned glasses with ice. Add vodka, lemon juice and honey and stir.
Garnish with lemon slices.