Those of us who love to cook usually say a recipe is just a guideline – and while I agree with this thought there are some cases where not following the recipe does not reward you. Years ago when my cousin, Katie H, and her now husband, Doug H, were students at Villanova University we enjoyed many non-dining hall dinners with them. Katie had told me a few times that Chicken Marabella was one of her favorite meals, so I decided to make it for the first time one night when they were coming for dinner. I knew it was a recipe from The Silver Palate Cookbook which I owned so I didn't need to ask her for it.  Katie said it was the best she'd ever had. I didn't think I'd done anything differently (other than using boneless chicken breasts in place of bone-in chicken breasts) so I started going through the ingredients and the process. I said I marinated it overnight (part of the recipe) and Katie said that's the difference – she and her family had always omitted that step. I thought this anecdote was important enough to pass along so you are not tempted to omit this step.
This is one of those recipes that may be 30+ years old (the first edition of The Silver Palate Cookbook was published in 1982) but should be in everyone's dinner party repertoire.  You can prep it ahead of time and it's easy to make, plus it tastes so delicious. I think people are often surprised at just how good it tastes. Plus, it's just as good served at room temperature or as leftovers as it is just out of the oven. Don't leave anything out (I know, prunes sound odd) as it all just works well together. I like to serve it with mashed or boiled potatoes to soak up the sauce.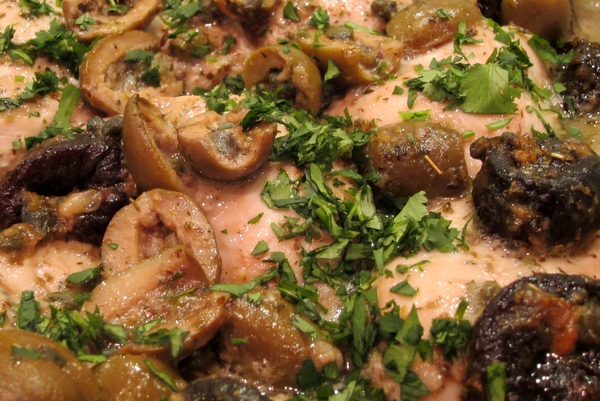 Ingredients
8 boneless breasts of chicken
8 garlic cloves, chopped
2 tablespoons of dried oregano
¼ cup of olive oil
¼ cup of red wine vinegar
1 cup of prunes
1 cup of green olives, cut in half if very large
1 3-ounce jar of capers with liquid
2 bay leaves
½ cup of brown sugar
½ cup of white wine
¼ cup of cilantro or Italian parsley, chopped
Instructions
In a large bowl combine chicken, garlic, oregano, olive oil, vinegar, prunes, olives, capers, bay leaves and salt and pepper to taste.
Cover and marinate in refrigerator overnight.
Preheat oven to 350°F.
Arrange chicken in single layer in one or two pans and spoon marinade over all chicken evenly.
Sprinkle brown sugar over chicken and pour white wine around the pieces.
Cook for about 40 minutes, basting frequently with pan juices until cooked through.
Transfer chicken, prunes, olives and capers to a serving platter and spoon some of the pan juices over it.
Sprinkle with cilantro or parsley.
Notes
* Do not skimp on the marinating time – overnight is a must.
* Can be served cold, too. Bring to room temperature prior to serving.
* If you use large chicken breasts, I like to cut them into two pieces.
Source:  Adapted from Julee Rosso and Sheila Lukins' The Silver Palate Cookbook (1982)