How does a good cookie become a great cookie?
I have been baking a variation of this cookie for 15+ years and during the holidays I make more of it than any other type.  Ed often asks why bother to bake anything else – that's how much he likes it.  For the holidays, I use cherries and walnuts, the rest of the year I just use pecans (chocolate chips and oatmeal are always part of this cookie).
A few years ago I read that you should never skimp on the salt when you are making chocolate chip cookies.  The salt enhances the chocolate flavor.  So, what can showcase the chocolate even more – coarse sea salt!  It turned this cookie from a good cookie into a great cookie. I love seeing people eat one of these for the fist time and making that connection between the chocolate and the salt.
I almost always have this cookie on hand as it freezes really well, too.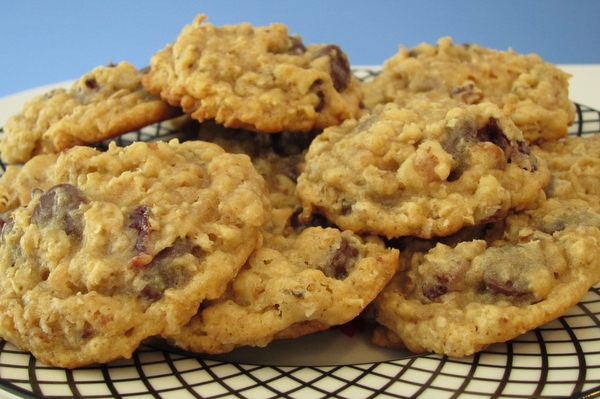 | | | |
| --- | --- | --- |
| Chocolate Chip-Cherry-Walnut-Oatmeal Cookies | | Print |
Serves:
Makes about 6-7 dozen.
Ingredients
1 cup (2 sticks) unsalted butter, at room temperature
1 cup brown sugar
1 cup white sugar
2 teaspoons vanilla extract
2 tablespoons milk (skim is fine)
2 eggs
2 cups all-purpose flour
1 teaspoon course sea salt
1 teaspoon baking soda
1 teaspoon baking powder
2-1/2 cups old-fashioned oats (not instant)
12 ounces semi-sweet chocolate chips (2 cups or one regular bag)
1-1/2 cups walnuts, chopped
4 ounces dried cherries (1 cup), cut into small pieces if they are large
Instructions
Preheat oven to 350°F.
Cream butter with brown and white sugars in a mixer or by hand.
Add the vanilla, milk and eggs. Combine flour, salt, baking soda, and baking powder in a separate bowl; add to the creamed mixture and beat to combine. Stir in the oats, chips, nuts and cherries.
Drop each rounded scoop (don't flatten) of dough 1-1/2-inches apart on greased cookie sheets (or covered in parchment paper).
Bake for 10-12 minutes. Remove them from the oven when they look almost cooked as they will continue to cook a bit on the warm cookie sheet.
Let sit 3-5 minutes on the cookie sheet, then remove to cooling racks.
Notes
* These cookie freezes well.
* Make them gluten-free: substitute 2 cups
Cup4Cup
gluten-free flour for the all-purpose flour and 2-1/2 cups gluten-free oats (such as
Bob's Red Mill Old Fashioned Rolled Oats
). Everything else remains the same. Be sure to refrigerate dough for at least an hour (or longer) before scooping and baking.