Happy 2nd Birthday to Riegl Palate! Since I can't share cake with all of you to celebrate the very least I can do is to share this wonderful flourless chocolate cake recipe with you. When I decided to try being wheat-free I knew that I needed to find a chocolate cake recipe to satisfy our chocolate cravings. Thank you to Kristie A and Nancy Reagan (yes, as in the former first lady) for this recipe. This cake is so good nobody will notice or care that it's gluten-free/wheat-free.
This is a fairly easy recipe that doesn't even need a mixer. It is also easy to double the recipe which is what I did in anticipation of two upcoming dinner parties. I made them a few weeks in advance and froze the cakes. Don't worry if the cake doesn't look pretty when it cools as you'll invert it for serving and cover it in powdered sugar. And, don't like chocolate and orange together (one of my favorite combinations)? You can leave out the orange zest and substitute your favorite liqueur (or just not use it).
A big thank you to all for a great two years (hard to believe) and here's to many, many more!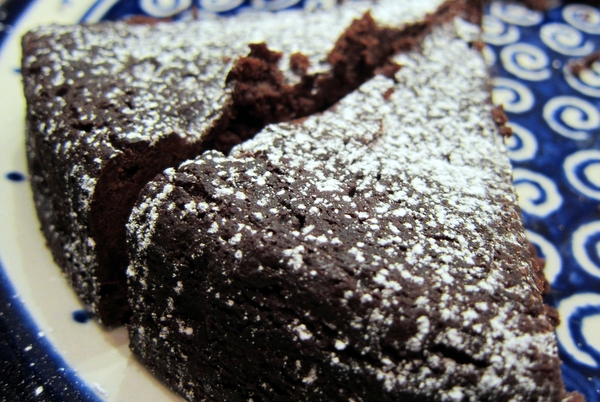 Photo by Betsy Barron Photography
| | | |
| --- | --- | --- |
| Chocolate-Orange Flourless Cake | | Print |
Ingredients
¾ cup (1-1/2 sticks) unsalted butter, plus extra for greasing the pan
Flour or unsweetened cocoa powder, for dusting the pan
6 ounces good-quality bittersweet chocolate
1 cup plus 2 tablespoons sugar
Zest of one large orange (you'll need a second one for serving)
1 tablespoon orange liqueur (such as Grand Marnier)
4 eggs plus 2 egg yolks
½ cup unsweetened cocoa powder
Powdered (confectioners') sugar, for dusting
Instructions
Preheat the oven to 375°F. Butter and dust with flour or unsweetened cocoa powder a 9-inch round cake pan. Line the bottom of the pan with parchment paper, then butter and dust with flour or unsweetened cocoa powder the parchment paper.
Fill a small sauce pan with two inches of water and bring water to a simmer. In a medium heat-proof bowl set over the saucepan, add chocolate. Place over medium-low heat and stir constantly until the chocolate is melted, about 2 minutes. Stir the butter into the chocolate to melt, and stir until smooth.
Remove bowl from heat (if necessary, place the melted chocolate-butter mixture into a larger bowl) and whisk sugar and orange zest into the chocolate mixture. Whisk in orange liqueur. Add eggs and egg yolks and whisk well. Sift cocoa powder over the chocolate mixture and whisk batter until totally smooth.
Pour batter into pan and bake for approximately 35 to 40 minutes, or until the top has formed a good crust (don't worry if the top of the cake cracks).
Cool cake in the pan on a rack for 10 minutes. Remove from pan and place on rack until cooled. Invert the cake onto a serving platter – this will hide any cracking on the top of the cake.
Dust with confectioners' sugar just before serving. Serve with vanilla ice cream, whipped cream or vanilla crème fraîche mixed with the zest of one orange.
Notes
* To ensure cake is gluten-free/wheat-free, dust the pan with unsweetened cocoa powder instead of flour.
* Don't like chocolate and orange together? You can leave out the orange zest and substitute your favorite liqueur (or just leave it out). Do not use a tablespoon of extract as that's too much (you could use a teaspoon).
* Recipe can be doubled.
* Cake freezes well – wrap tightly and freeze for up to three months.
Source:  Adapted from Roland Mesnier and Christian Malard's All the Presidents' Pastries: Twenty-Five Years in the White House (2007)