Despite everyone in my family loving to drink coffee, I have never been a regular coffee drinker, but I have always loved coffee-flavored foods. Coffee ice cream was a regular dessert in my house as a child and it has always been one of my favorites. And, I also grew up with coffee syrup flown from Rhode Island where it originated. My stepfather, Mark J, was raised with Autocrat Coffee Syrup and his parents made sure that even though he moved to California, he still had that great coffee syrup to flavor milk, make ice cream sodas and pour over ice cream.
I started making this gelato years ago because not only could I get the great coffee flavor, but I could also make it with milk (rather than cream) which not only made it more healthy (or, shall we say, less bad for you), but also allowed me to make it lactose-free as I could use Lactaid milk.  I typically use 2% milk which achieves a great creamy texture, but you can also use whole milk.
This is an adaptable recipe – you can add mini-chocolate chips, nuts or some fudge to make it even better.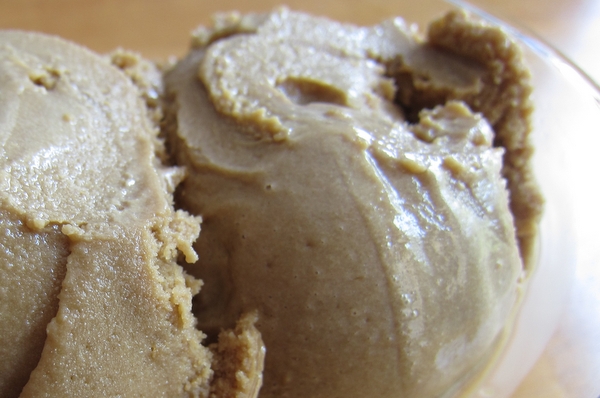 Ingredients
5 large egg yolks
1 cup sugar
1½ cups 2% milk or whole milk
1½ tablespoon instant espresso powder dissolved in ½ cup hot water
Instructions
Whisk yolks and sugar in large bowl to blend.
Bring milk to boil in heavy medium saucepan (about 3-4 minutes).
Gradually whisk hot milk into egg mixture; then whisk in espresso mixture.
Return mixture to saucepan.
Stir over medium heat until custard thickens and leaves path on back of spoon when finger is drawn across, about 6-8 minutes (do not boil).
Refrigerate until cold, about 3 hours or overnight (preferred).
Process custard in ice cream maker according to manufacturer's instructions.
It's very close to the final consistency when it comes out of the mixer.
Freeze in covered container.
Notes
- Gelato can be prepared 3 days ahead. Keep frozen. - One of the many great things about gelato is that it's often made with milk (as is the case with this recipe), not cream. If you are making this for anyone wih a lactose intolerance, you can use Lactaid milk (not an option if it were made with cream). - If you don't have espresso powder or prefer a decaffeinated version, you can use 2 tablespoons of decaffeinated instant coffee. - Prepare the custard a day or two before you want to mix it, so it's definitely cool when you mix it. - Put the container that you are going to use to store the gelato after it's made in the freezer ahead of time so that it's cold when you add the finished gelato (prevents it from melting) - suggestion from a reader. - When it's cold out, I run the ice cream maker outside to keep it colder (and it's quieter in the house).