Despite growing up in Los Angeles, I'm one of those people who doesn't believe in wearing white pants or shoes between Labor Day and Memorial Day. But, I do believe that it's okay to drink both gin and tonic water all year long. That's why I was so excited when my friend Carolyn R brought the fixings for this drink to a recent gathering. Plus, I loved how the red from the cranberries and green from the limes made this drink look festive.
This is a perfect cocktail for your holiday get-together as you can make the cranberry syrup ahead of time and mix the drinks individually instead of as a batch, if you prefer. And, for those of you who prefer vodka you substitute it for the gin (personally I prefer gin to vodka). And, it's a great excuse to use Q Tonic Water or Fever-Tree Indian Tonic Water which will take this drink to the next level.
The cranberry syrup complements the gin, tonic and lime juice so well, I may just have to drink these all year round. Thank you to Carolyn R for the recipe!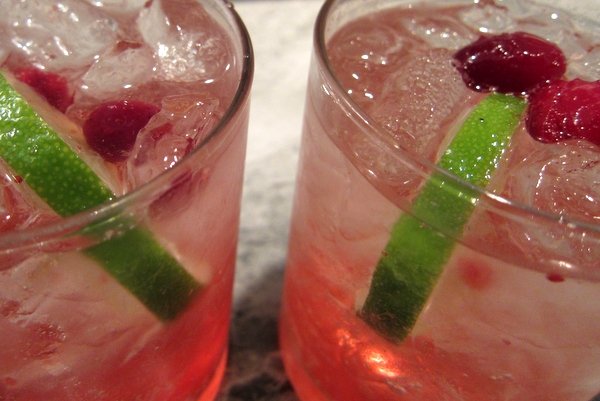 | | | |
| --- | --- | --- |
| Cranberry Gin and Tonics | | Print |
Ingredients
2 (12-ounce) bags fresh cranberries
1 cup sugar
½ cup water
3⅓ cups chilled tonic water
1¼ cups high-quality gin
3 tablespoons plus 1 teaspoon fresh lime juice
Fresh lime slices (for garnish)
Instructions
Bring cranberries, sugar, and water to a simmer in a 3- to 3½-quart saucepan, then simmer, uncovered, stirring occasionally, until berries just begin to pop, about 2 minutes.
Drain cranberries in a fine-mesh sieve set over a 1-quart glass measuring cup, then reserve 2 cups cranberries and force remaining berries through sieve into syrup.
Discard solids remaining in sieve, then add reserved cranberries to syrup.
Cool to room temperature. Refrigerate until cold, about 2 hours.
Select your serving preference:
For a pitcher: Transfer syrup to a pitcher. Add remaining ingredients to syrup, stirring gently to combine. Serve drinks over ice in 8- to 10-ounce glasses and garnished with a lime slice and some whole cranberries (from syrup).

For individual servings: Place 1 ounce of gin in a 8- to 10-ounce glass filled with ice. Add 2 tablespoons cranberry syrup (or to taste), 1 teaspoon fresh lime juice and top off with tonic, stirring gently to combine. Garnish with a lime slice and some whole cranberries (from syrup).