I love the combination of dark chocolate, caramel and sea salt.  A lot of people must as it's a popular combination right now and fairly easy to find.  I decided that I was going to try my hand at making my own.
The chocolate part was easy – it's the base I use for a variety of "barks" that I make.
The caramel was more challenging.  The first version I made was way too runny and messy although it tasted pretty good (and some of my dear friends were more than happy to help me eat it).  Back to the drawing board.  Then I recalled that Giada De Laurentiis had a recipe that included caramel in Giada at Home: Family Recipes from Italy and California (2010), so I adapted that for this recipe and it worked perfectly.  Thanks, Giada.
And, for the salt, any kind of course sea salt will do, but I am fond of the pink Himalayan course sea salt – mostly because it is pink!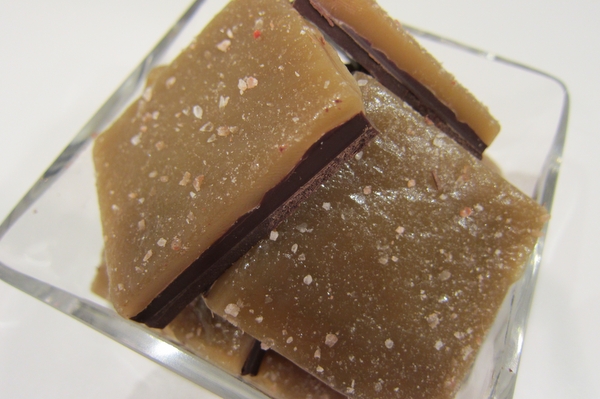 | | | |
| --- | --- | --- |
| Dark Chocolate-Sea Salt Caramels | | Print |
Ingredients
20 ounces of dark chocolate
½ cup heavy cream
½ cup (1 stick) unsalted butter, at room temperature
1½ cups light brown sugar
1 tablespoon water
Course or flaky sea salt
Special equipment: candy thermometer
Instructions
Line a cookie sheet with slightly high sides with wax paper. Recommend 15" x 10" or 17" by 11" cookie sheet.
Put chocolate chips in a microwave-safe bowl. Microwave on medium power for about 5-6 minutes until just melted, stirring occasionally. Spread melted chocolate evenly on the cookie sheet. Refrigerate for 20-30 minutes until the chocolate is set.
In a medium heavy-bottomed saucepan, combine the heavy cream, butter, brown sugar, and water. Stir over medium heat until the mixture is smooth. Bring to a boil and cook, without stirring, until a candy thermometer registers 240°F, about 5 to 7 minutes. Carefully pour caramel over the cooled chocolate layer. Sprinkle with coarse sea salt or sea salt flakes.
Cool at room temperature for about 30 minutes. Refrigerate for about an hour.
Cut into 1 inch squares using a serrated knife. Be careful not to separate chocolate from caramel. If it's too hard to cut, let it get closer to room temperature.
Refrigerate until ready to serve – let sit out at room temperature for about 30 minutes before eating. Caramels keep, refrigerated for a month.
Notes
I use 2 bags of Ghirardelli 60% cacao bittersweet chocolate chips (10 ounces/bag).
Source:  Portion of recipe adapted from the Espresso Caramel Bars in Giada De Laurentiis' Giada at Home: Family Recipes from Italy and California (2010)