I recently learned the hard way that some restaurants define "gazpacho" as merely a cold soup, not a tomato-based cold soup. I ended up with a mango and crab cold soup that was really tasty but not at all what I was expecting.
Before I wrote this post I looked up the definition of "gazpacho" and found that they all include tomato in the definition although some say "may contain tomatoes." Takeaway from this food lesson – if you didn't make it, it doesn't hurt to ask what the ingredients are. It's all about managing expectations.
This recipe is easy to make and so flavorful. What makes it even better? You can make it at any time of year as it's equally good with the freshest August tomatoes or wonderful canned San Marzano tomatoes (if you're using canned, I recommend splurging on the good ones).  We prefer our gazpacho to be slightly chunky. You can process it for longer and run it through a fine strainer if you prefer it smoother.
Ed and I adore gazpacho and order it any time we see it on a menu. I recently had a tasty bowl at the White Dog Cafe in Wayne, PA. The menu description said "tomato" so I didn't have to ask – I knew what I was getting.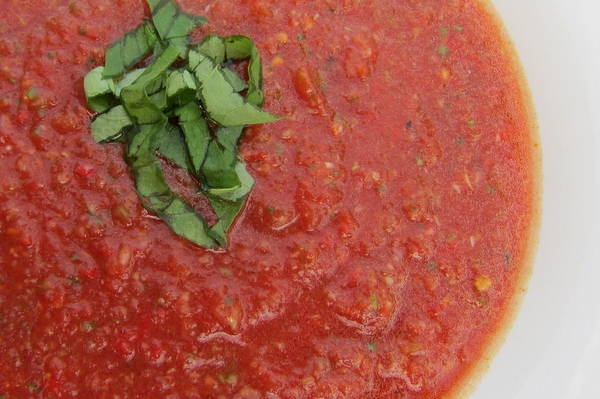 Serves:
Makes about 8 cups - serves 4-5
Ingredients
4 pounds tomatoes, chopped and drained (see note)
3 scallions
½ large red onion
½ seedless cucumber, unpeeled
½ red pepper, seeds removed
6 garlic cloves
½ cup red wine vinegar
¼ cup good quality extra virgin olive oil plus more for drizzling
½ teaspoon celery salt
½ teaspoon crushed red pepper flakes
½ teaspoon smoked paprika
1 teaspoon sea salt
½ teaspoon freshly ground black pepper
Fresh basil for garnish
Instructions
Cut tomatoes (fresh or canned), scallions, onion, cucumber and red pepper in large pieces and place them in a Vitamix, large food processor or blender fitted with the steel blade.
Add the garlic and pulse until the soup is coarsely puréed.
Place it in a large glass or ceramic bowl and whisk in vinegar, olive oil, celery salt, red pepper flakes, smoked paprika, salt and pepper.
Cover with plastic wrap and chill for 4 hours or overnight.
Transfer soup to individual bowls and drizzle with your best olive oil and garnish with chopped basil.
Notes
* If tomatoes aren't in season, substitute 2 (28-ounce) cans of whole peeled San Marzano tomatoes, drained.
* For smoother soup, use a Vitamix or process longer in the food processor (or blender) and run it through a fine strainer.