We recently caught up with friends, Kristin and Chris D, who told us that they celebrate the end of the work week by creating a new cocktail every Friday. They use ingredients in their garden but also seek out new accompaniments to their cocktails. This inspired us and Ed suggested that we make a new cocktail every Sunday night. We decided to take turns being the "primary mixologist."
I recently went "old school" after reading that Gin and Tonics (or G&Ts) have made a comeback as evidenced by references in the August issue of Bon Appétit and a recent article in the NY Times – Gin, Tonic and a Dash of Restraint. My first G&Ts many years ago were made with Gordon's Gin and Canada Dry tonic water. The only ingredient in common with those and my new favorite is fresh lime slices. This Gin and Tonic is made with Hendrick's Gin, Fever-Tree Indian Tonic Water (Q Tonic also works well) and fresh lime slices, plus one secret ingredient. What is that? My sister, Dixie J, makes her G&Ts with a dash of traditional bitters (such as Angostura). Building upon that thought (and something I read) I procured a bottle of Scrappy's Grapefruit Bitters which are organically made in Washington state. The result? A perfectly refreshing Gin and Tonic that captures the essence of summer but can be enjoyed all year long.
Don't skimp on the gin or the tonic – using high quality ingredients really pays off. If you haven't tried some of the new tonic waters out there you are really missing out – they bear no resemblance to the tonic waters (made with high fructose corn syrup) of our youth. I particularly like the Fever-Tree Indian Tonic Water as the bubbles are like those found in Champagne.
P.S.  Betsy B just sent me this great article on G&Ts – The Imperial Cocktail – How the gin and tonic became the British Empire's secret weapon. As Winston Churchill once said, "The gin and tonic has saved more Englishmen's lives, and minds, than all the doctors in the Empire."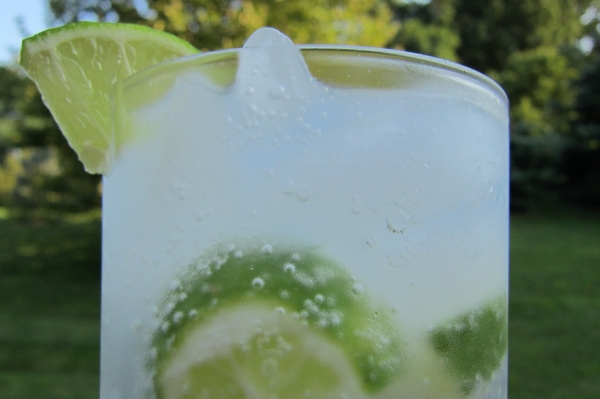 Ingredients
2 ounces premium gin (such as Hendrick's)
3 lime slices
3-4 dashes of bitters (preferably grapefruit, but traditional Angostura will work)
high quality tonic water (Fever-Tree or Q Tonic)
Instructions
Place gin in a high ball glass.
Squeeze 2 of 3 lime slices into the glass (rubbing one slice around rim of glass).
Add 3-4 dashes of bitters to glass.
Add ice until ¾ full.
Top with tonic water and stir.
Garnish with remaining lime slice.