These tasty little treats were inspired by an Instagram post from Vermont Creamery that I saw a few weeks ago. I'm partial to anything from Vermont Creamery whether it be cheese or butter. In fact I have them to thank for learning what "good butter" really is (I'll save that for another post). We recently spent the afternoon in the Burlington, VT area so it seemed a fitting time for this post.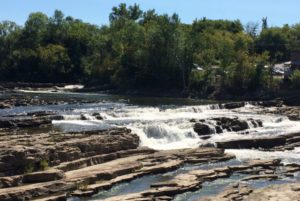 While we usually lunch on Church Street in downtown Burlington this time we decided to do a bit of exploring and headed for the Waterworks in Winooski. It occupies a part of the wonderfully restored Champlain Mill and overlooks the Winooski River and falls. We had the best seat on the deck right near the falls. They have some nice gluten-free options and possibly the best french fries ever – potatoes with a hint of garlic. Plus Ed very much enjoyed a pint (or two) of Hill Farmstead Brewery's Edward, an American Pale Ale. His first "namesake" beer.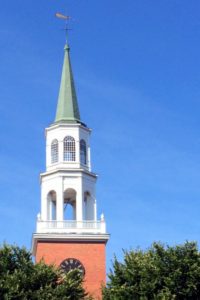 From there we headed to Church Street which is a lovely pedestrian shopping and eating destination in the heart of Burlington. If you look towards the west on the cross streets you'll catch a glimpse of Lake Champlain. The street gets its name from the Unitarian Church which dates to 1816 and is the oldest place of worship still standing in Burlington.
On our ferry trip back to the New York side we enjoyed gorgeous views of Lake Champlain and the Green Mountains of Vermont – that's Camel's Hump in the distance. The only camel you're likely to see in the state.
This is a simple hors d'oeuvre that's both a snap to make and to eat. Start with sweet piquanté peppers (also called Peppadews) and fill them with a yummy herbed goat cheese spread. While you can spoon in the cheese I find it easier to fill a small ziplock bag about halfway and snip of the edge so you can squeeze the filling into the peppers. You can also use the hot version of the piquanté peppers although I find the sweet to have a nice little bite to them (I haven't tried the hot variety). If you don't have piquanté peppers you can use small sweet peppers. Note that the piquanté peppers are about the size of a cherry tomato. Once stuffed add them to a decorative platter and you're ready to go. Don't worry if they will not stand up – they will still taste great.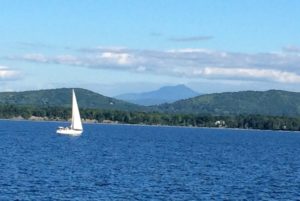 I've recently had two encounters with family and friends about the need for easy to serve appetizers. These are ideal as there are no utensils needed for serving. Perfect for a boat or backyard BBQ.
Thank you to the Vermont Creamery for making such wonderful products and for making them available close to home so we can enjoy a taste of Vermont back in Pennsylvania.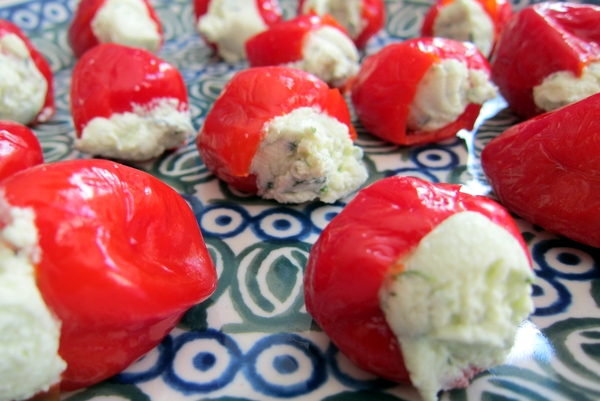 | | | |
| --- | --- | --- |
| Goat Cheese-Herb Stuffed Sweet Piquanté Peppers | | Print |
Ingredients
1 14-ounce jar of sweet Peppadew peppers (sweet piquanté peppers)
8 ounces goat cheese
1 cup herbs (basil, thyme, lavender and/or parsley)
2 teaspoons flavorful extra virgin olive oil
Flaky sea salt (such as Maldon)
Instructions
Drain peppers in a colander and dry them between two dish towels. You want to remove as much moisture as possible.
Place goat cheese, herbs and extra virgin olive oil in a food processor and process until smooth.
Add salt to taste.
Transfer cheese spread to a small ziplock bag. Snip the tip of the bag and squeeze into each pepper. Alternately you can use a small spoon to fill each pepper.
Place on a platter, cover with plastic wrap and store in the refrigerator.
Can be made a few hours in advance. Bring to room temperature before serving.
Notes
* You'll likely have some leftover cheese spread which you can serve on crackers or use in place of butter for fresh corn.
* Don't have sweet piquanté peppers? You can use hot piquanté peppers or small sweet peppers instead.