I'm a rules follower but even I know there are exceptions and in this case I'm glad that I broke them. I received a few all natural spice blends from Urban Accents to try. Instead of following the recipes as suggested by the spice blend title or on the bottle, I thought I'd try something new. One blend clearly intended for salmon was called Kodiak Salmon Rub but after looking at the ingredients I thought it would make a great seasoning for chicken fajitas. Mixing this blend with lime juice and olive oil resulted in not only very tasty chicken but also great onions and peppers.
I've used a few Urban Accents spice rubs and have been very pleased with them. Good all natural, gluten-free combinations and not too salty (which is often the case with pre-made blends). While I have a more than full spice cabinet I do enjoy these blends for ease and they are great if you're renting a home for summer travel where you know that you'll be doing some cooking (no need to bring your whole spice cabinet, right?). As we head into a long holiday weekend this is a great recipe for grilling at home, too.
Some times it's good to think outside the box…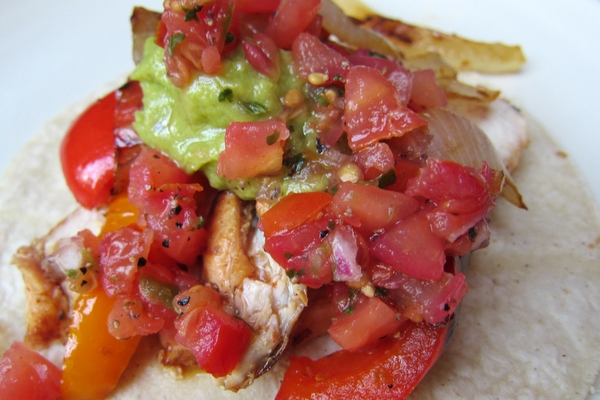 | | | |
| --- | --- | --- |
| Grilled Chicken Fajitas | | Print |
Ingredients
3-4 boneless-skinless chicken breasts (about 1-1/2 pounds)
1 red pepper
1 orange pepper
2 large sweet onions
4 teaspoons Urban Accents Kodiak Salmon Rub
Juice from 4 limes (about ¾ of a cup)
⅓ cup olive oil
Corn or flour tortillas, guacamole, fresh salsa (pico de gallo) and freshly chopped cilantro
Grill pan or La Plancha Cast-Iron Griddle
Instructions
Mix spice blend, lime juice and olive oil in a small bowl. Reserve 3 tablespoons of the marinade for peppers and onions.
Place chicken in a bowl or ziplock bag and pour remaining marinade over chicken.
Marinate for a few hours or overnight (preferred).
Before cooking, cut peppers into 1-inch pieces. Cut onions in half and then into rings. Place peppers and onions in a bowl or ziplock bag and cover with reserved marinade.
Preheat the grill and grill pan or La Plancha. Brush the grates clean.
Grill the chicken over direct medium heat on the grill, with the lid closed as much as possible, until the meat is firm to the touch and opaque all the way to the center, 8 to 12 minutes, turning once or twice. At the same time, spread the vegetables in a single layer on the grill pan. Grill until the vegetables are crisp-tender, 6 to 8 minutes, stirring occasionally. (Alternately the vegetables can be cooked in a frying pan on top of the stove or in the oven for 10-15 minutes at 400°F.)
Remove the chicken and vegetables from the grill as they are done. Tent with aluminum foil if they are not done at the same time.
Cut the chicken into ¼-inch strips and place on a platter with the vegetables.
Serve immediately.
Notes
* If you use corn tortillas this meal is gluten-free/wheat-free.
* Wegmans carries some
Urban Accents
spice rubs, but not this one. You can order it directly from their website.