Ed and I recently enjoyed a great early dinner at Tired Hands Brewing Company's Fermenteria in Ardmore, PA before heading to the Mann Music Center to see Bob Dylan. Not only is the beer at Tired Hands great but so are their tacos. I had been once before and I had been thinking about their Brussels sprouts tacos (yes, I said Brussels sprouts) ever since. I was sad to see that they were not on the current taco rotation but we did enjoy both barbacoa (beef) and crab tacos.
While we were there I noticed a couple at a nearby table chowing down on some Mexican street corn. It was messy but they didn't seem to mind. This memory stayed with me so when I saw the first summer corn at our local farmers market I thought I'd give it a try.
Called "elote" in Spanish, Mexican street corn is often served on a stick or a handle fashioned from the husk. It's grilled corn rolled in "cream" (Mexican sour cream, sour cream or mayo) and topped with crumbled cheese, cilantro and a dash of chili powder. I went for a more slightly healthy version made with a lime and yogurt sauce. I couldn't find the traditional Mexican cotija cheese so I used feta instead as the flavors are quite similar. Top it with a sprinkle of your favorite chili powder for both flavor and color. I prefer to use ancho chile as it has flavor with less heat – use chipotle if you want a bit more spice.
While I didn't try Tired Hands' version I will say that I was quite happy with the end result. Make sure you have a few extra napkins on hand.
If you're in the Philadelphia area I highly recommend visiting Tired Hands. Note that they have two locations (both in Ardmore) – a smaller brew cafe and larger Fermentaria where their beer is also brewed. The food menus are different at each of their two locations.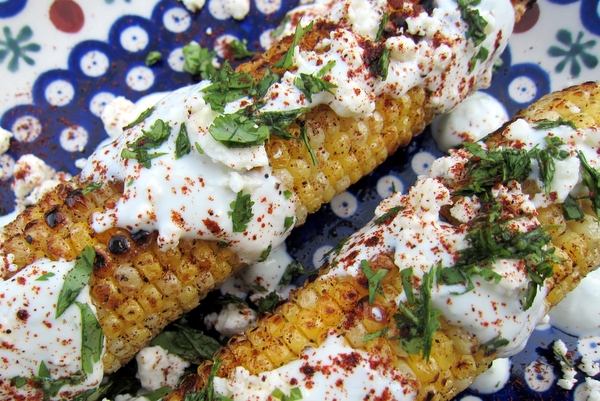 | | | |
| --- | --- | --- |
| Grilled Mexican Street Corn | | Print |
Ingredients
8 ears of sweet corn, husked
1 teaspoon of olive oil
6 ounces plain fat-free Greek yogurt
Juice and zest from one lime
1 small garlic clove, minced
Good quality sea salt
4 ounces Cotija or feta cheese
2 tablespoons chopped cilantro
Dash of ancho or chipotle chili powder
Instructions
Place yogurt in a small bowl. Stir in lime juice and zest, garlic clove and a small pinch of salt.
Lightly cover husked corn with olive oil and salt and pepper.
Prepare a gas grill for direct cooking over medium heat (350° to 450°F).
Grill corn over direct medium heat (all burners on), with the lid closed as much as possible, until corn is browned in spots and tender, 12 to 15 minutes, turning occasionally.
Remove corn to a plate. Roll corn (or brush) in yogurt sauce. Top each ear with crumbled cheese, a sprinkle of cilantro and a dash of chili powder.
Serve immediately.
Notes
* The cheese is salty so don't use too much salt in the yogurt mixture.
* Yogurt mixture can be made up to two hours in advance. Cover and refrigerate.