The theme for our most recent Gourmet Dinner Club (GDC) was "everything grilled" and my assignment was a side dish. I quickly decided that grilling potatoes for the base of a potato salad was the route I wanted to take. This is a recipe that I've made many times (from a favorite cookbook, One Potato, Two Potato) but this time the twist was using grilled potatoes. I boiled them first until they were just tender and then put them on the grill to finish off the cooking. This ensures that the potatoes are cooked through.
I did some research to find out what makes this a "Moldavian" potato salad and came up with very little. Moldova (the modern state of Moldavia) is between Romania and Ukraine. Given the history of eastern Europe there have been many food influences including Greek. This salad borrows from traditional Greek flavors including dill, Kalamata olives, feta cheese and red wine vinegar.
Be sure to let it sit for at least an hour before serving so the flavors blend together. While I really like this salad with grilled potatoes, it's equally good if you just boil the potatoes.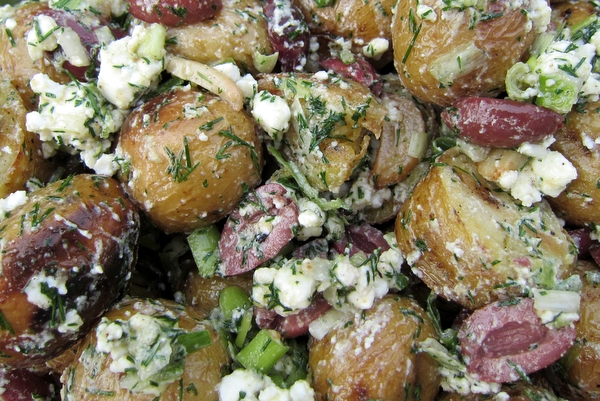 | | | |
| --- | --- | --- |
| Grilled Moldavian Potato Salad | | Print |
Ingredients
3 pounds baby Dutch potatoes (or other small potatoes)
⅓ cup good quality extra virgin olive oil, plus more as needed
2 small clove garlic, minced
6 whole scallions, chopped
¾ cup French or Greek feta, crumbled
½ cup Kalamata olives, cut in half or coarsely chopped
3 tablespoons chopped fresh dill
1-1/2 tablespoons red wine vinegar
Coarse sea salt and ground pepper
Instructions
Even though you're using small potatoes you may need to cut some in half so that they are all relatively the same size. Do not peel them.
Place potatoes in a saucepan, cover with cold water by at least 1 inch and bring to a boil. Reduce the heat to medium, cover part way, and cook until the potatoes are just tender (they will finish cooking on the grill).
Drain the potatoes and place in a metal or glass bowl. Coat with olive oil, coarse sea salt and freshly ground black pepper.
Preheat the grill. Once the grill is heated adjust to medium direct heat (about 350°F).
Place the potatoes on the grill and close the grill top. Grill for 4-5 minutes on each side, turning once.
Once cooked put them back into the bowl. Add garlic and let cool to room temperature.
Add scallions, feta, dill and vinegar. Toss gently to combine. Add more olive oil if potatoes appear a bit dry.
Season with coarse sea salt and freshly ground black pepper. Cover with plastic wrap.
Make salad an hour ahead of time for the flavors to develop or refrigerate overnight.
Let the salad sit out for about 20 minutes before serving.
Notes
* You can skip the grilling step. If you do cook the potatoes in boiling water until they split with a fork.
* Wegmans has French Feta (Valbreso) that it is already crumbled.
Source:  Adapted from Roy Finamore with Molly Stevens' One Potato, Two Potato (2001) with reference to Anya von Bremzen's Please to the Table (1990)